It's important to understand that Inbound Marketing is heavily brand-dependent. While branding has many varied deliverables, we've found that there are 4 essential brand elements that will make running a successful Inbound campaign easier and more effective.
Logo Saved in Vector Format
You want a vector image file of your logo so you can readily use it on any media at any size. Without this, you will only be able to make you logo smaller and - if you try to make it larger - it will become blurry.
The good news is that if you have the source design files for your logo, you likely have the vector image. Usually, it's an Adobe Illustrator file. If you only have a .png, .jpg, .gif, or .psd of your logo, it's probably not a vector image. Even if you have .eps or .pdf, the file isn't necessarily a vector file. The easiest way to tell if an .eps or .pdf is a vector is to open the file and zoom by several hundred percent. If the character lines are jagged, it's not a vector.
All of this being said, IF YOU DO NOT HAVE A VECTOR FILE FORMAT LOGO IT'S NOT A BIG DEAL! Assuming you have the original logo in digital form, your marketer or designer should be able to redraw the logo for you within 30 minutes to an hour, depending on how complicated the logo's design is.
Full Color Palette
When creating a logo, you typically only use one to three colors. But, how many other background colors, button hover colors, link colors, signage colors, logo variation colors, paint in your office colors, etc. do you use within the rest of your company's brand. Realizing how broad your company's "color spectrum" truly is, better defines what colors you should use.
Brand Messaging
What do you say when presenting your company to an investor? What words do you use on Social Media? What phrase made it as your tagline? What do you say during your sales pitch consistently? What other sentences and messaging have made it to your arsenal of verbiage?
These are all essential questions you can ask yourself. These questions bring your brand under a microscope to show you what you truly want to stand for and what you want to be known for.
If you have no pattern to what you say or you are a brand new company, have a sit down with your marketing company to figure out what the answers to these questions might be.
Style Tile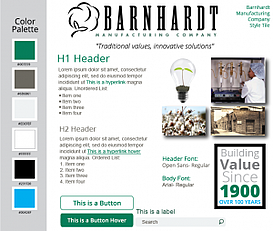 Business owners know how their company's brand is meant to look and feel, but often they don't put it down on paper. Creating a style tile is vital for the consistency of branded media and the cohesiveness of your overall marketing. If you use the same style tile for every piece of marketing you produce, your brand will be easily recognized and associated with the topic and terminology you wish it to portray.
A style tile is a guide that is used to define the following:
Primary Colors used on website and branded media
Font type used on website and branded media
Font Sizes and Colors used in different titles and paragraph text
Imagery, Patterns and Textures used on website and branded media
Logo and Logo Variations
Adjectives and terminology that describe your brand
Sample buttons or CTA (Call to Actions) designs that you might use in your marketing.
Although it may look like a Style tile is a completed brand, it is not. A style tile shows you examples of the individual parts of your brand. To give you an example:
Branded Messaging

Tagline: "Your One and Only One-Stop Sign Shop"

Pitches: "We can supply solutions to ALL of your Signage needs..."

Vs.

Adjectives & Terminology

Adjectives: Affordable, Solid, New, Long-term, Partner, etc.

Terminology: "One-Stop Shop", "Signage", "Solution oriented", etc.
As you can see, Adjectives & Terminology bring a lot to the table, but do not quite display a completed and full brand message. More than anything, the Adjectives & Terminology bring focus and guidance to a designer to lead them in the right direction when creating an inbound marketing piece! This example is carried out through every one of the categories listed under the style tile.
As we come to a conclusion here, we want to remember that all 4 of these key elements are very easy to come by. Once you have them, you'll be able to reuse them to ensure your brand is consistent!