It is great to hear a person say, "I have the best job, with the best boss!" It's likely this person's work has a great company culture and atmosphere. Creating a culture your employees can love is an important aspect to the success of any business. It is a culture that molds an environment and makes employees feel like they are a part of something meaningful and fulfilling.
Here are some steps to creating a great company culture: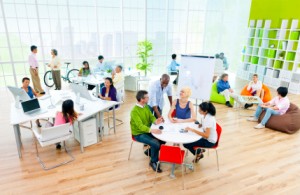 1. Hire Awesome People!
Hiring the right person for a particular job is critical for company culture. Every company needs goals, values, and ambitions that employees can get behind. Plus, potential employees today are searching more for the company looking for experience and cultural fit than the company looking for the right academic background.
When entering a work place, it is clear what type of culture there is. Having positive, efficient, hard working, team-oriented members creates a more pleasant work environment.
2. Work Ethic over Card-punching
Hard work deserves to be rewarded. It's much more than how many hours you clock each day. A good business owner seeks and deserves employees who are self-disciplined and get work done. Owners should not be focused on or looking for timecard punchers, they should be looking for individuals with excellent work ethic and efficiency. Nor should a business be focused on the amount of time an employee spends in the office.
It can be hard for employers to remember that their employees have busy lives outside of work where they have designated time scheduled for themselves and their families. Many companies labeled the "best companies to work for" have no measurement or evaluation of time spent in the office or maximum vacation days. Instead of micromanaging to "ensure success", success is measured through accomplishments and the final product.
Team lunches or outings can build a bond within a team as well. This can create solid company culture the employees will love. They will feel appreciated for the job well done in an environment outside of work where everyone is on an equal playing field.
3. Transparency in Communication
Communication in the work place is a key aspect when considering culture. Transparency is crucial to a positive culture! Don't make big changes without talking with your employees first. Instead involve them in creating a culture of their own - guided by your own goals and intended direction. Make them feel like they are an influential part of the decision being made. Lets face it, at the end of the day, they are! They are the eyes, ears, face and heart of your business; respect and embrace this! Employers that make themselves more vulnerable to employees gain much more respect than an employer who is closed-off or distant from the rest of the office.
Also, recognizing and celebrating accomplishments encourages a healthy company culture. Rather than setting them up for failure by creating unobtainable deadlines or overloading them with tasks, create achievable goals and set up monthly or quarterly interviews to review employee performance. This will motivate your employees to improve; thus in the long-run greatly improving business!
4. Office Atmosphere
Creating an enjoyable, light-hearted atmosphere in the work place is also an important part of company culture. If anyone has ever seen the Pixar, Google, or Facebook offices, they know what it is to have a "cool" office atmosphere. Yet, not every company can afford a slide on every floor or a basketball court. This would be ideal, but it's just not realistic.
There are small things that companies could do to improve office atmosphere. They could have a relaxing place for employees to get away for a bit from their desks, maybe to have a laid back meeting. An employer could set up an inviting break room where employees could meet for lunch. These things would help the employee come back to their desk feeling refreshed and ready to be efficient. It's important for a work space to feel like work, all while maintaining a sense comfort.
In closing, creating a healthy work-place culture is probably one of the most vital aspects in the success of a business. This doesn't happen overnight and takes hard work and patience to figure out what culture is most relevant to your business's unique goals. Giving attention to employee feedback and determining which principles and values are most important can guide your business towards success and assist in defining your company's perfect culture!