Are you using buyer personas in your Inbound Marketing? If you're looking to add these to your marketing toolbox, then this post is for you. Buyer personas are powerful because they add faces and personalities to an audience, which makes marketing more meaningful for you and your readers.
What is a buyer persona?
We know that not everyone is a marketer. Many of our audience members are business owners, executives and sales folks, so you may not know what a buyer persona is.
A buyer persona is a fictional person who is created based on the personalities, goals, and pains of real audience members. Often, but not always, they are potential customers. We use these personas when planning campaigns, writing content and anywhere else they can inform our marketing. Personas usually take the form of a 1 page document but you can get as creative or in-depth as you like with them.
Personas aren't hard to make. The biggest challenge is finding the information. Below are 3 easy ways to get the information you need to create an effective buyer persona.
1. Interview an existing customer
You may think it would inconvenience a current customer to ask them for information about how they became your customer, but I've never had a customer balk at the opportunity. More often than not, they like being heard. The key is to make the process quick and easy for them.
You can either ask them for a brief phone interview or provide a list of questions for them to answer on their own time. We find it helpful to still send questions in advance, if we're doing a phone interview because it gives the interviewee time to consider their answers prior to the call and it keeps the time commitment for the call low for them.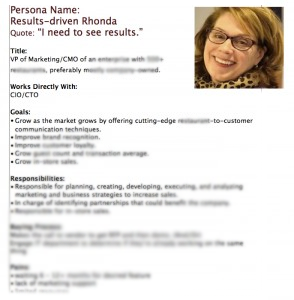 Valuable interview questions are:
What is your average day like?
What business event lead you to search for our solution?
How did you research potential solutions? Where do you go for resources? (peers, online searches, trade publications)
How did you discover us as a solution to your problem?
What were your concerns before buying the solution?
How do you like to receive information? (webinars, ebooks, powerpoints, face-to-face meetings)
What is your goal once you have the solution to your problem?
How did you make the final decision?
These questions are just a start to give you an idea of what to ask. Take them and make them your own and change them as-needed. Interviewing is a fairly organic process - meaning you don't know what you'll discover until you ask. Go where the interviewee takes you and use the questions to get the conversation back on track.
2. Look at your sales cycle or interview your sales team
Your sales team is on the front line and can provide a wealth of information for your persona that you won't be able to find through research. It's critical to get their point-of-view.
For example, is the sales team typically contacted by administrative assistants or interns to gather information about your services or are higher level decision makers typically reaching out? When your sales team is trying to sell to a company, do they go right for the C-suite executives or do work with a gatekeeper?
It is also valuable to know how long the sales cycle typically lasts before the sell is made. During the cycle, was a RFP, powerpoint presentation, or webinars needed to provide service information or was a call enough? The items inform you about the personality.
3. Dig into the pain & solution
Your company has a solution to your customer's pain point. If not, you would never sell anything. Do you know exactly what the pain point is? Here are a few questions to consider:
Does this customer have more than one pain point?
How does your solution relieve the customer's pain?
What are other frustrations that your solution will resolve for the customer?
Will your solution cause a trickle down effect that will alleviate future pains?
Including this information in your Buyer Persona will help you understand better the effects your business solution has on your potential customer. You'll be able to create marketing content that will cater to their specific needs and makes it a no-brainer for them to rely on you as the solution. You'll also be able to nurture your relationship by knowing how to continue to be their solution.
Having Buyer Personas for your business will help you and your team know who you are selling to, how to sell to them, and why they need your company's products and services. There are many templates available for you to download to create a thorough Buyer Persona. We've created a one that you can download here (direct download).
Like templates? There is no reason to reinvent the wheel, so download our Internet Marketing Planning template. This will assist you in streamlining your planning process and will keep you on track.