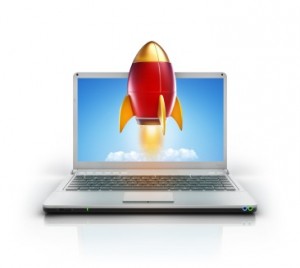 Your website's performance directly impacts your web marketing effort. Both Google and Bing factor in how fast a webpage loads when determining its rank in their search results. Even if visitors find a slower site, they will convert less and leave sooner if they perceive it as slow. Emphasizing good website performance helps improve its search engine ranking and makes a good impression on visitors to your site.
Performance has always been important for webpages. You may remember browsing the web in the Age of Dialup, where you may have waited 10 seconds for a page to load, but clicked Back and moved on after 20 seconds of a blank screen.
Two factors have increased the expectations regarding website performance since the early days of the web. First, improved technology and the widespread availability of broadband have conditioned visitors to expect ever quicker webpages. Second, the use of mobile devices to browse the web is rapidly increasing. These devices have technical limitations on their speed beyond your site's control. This means it is important to squeeze every ounce of performance out of the factors that you can control. Here are some of those factors.
Software
You can custom-program your site from scratch, to be absolutely certain that it fits your needs, including hand-tuned performance. In the long run, though, choosing a vibrant existing content management system (CMS) will probably get you better performance with better protection from obsolescence. Software with a wide adoption rate will have many users pushing developers for better performance. As a bonus, there will be more human resources to help maintain your site in top shape. (Think of your website like a car: a vintage, short-run European roadster may be blazingly fast, until it breaks down and you can't find parts or a mechanic to work on it.)
File Compression
Some compression strategies, like saving images at the size they will be viewed, and using formats with built-in compression, have been around so long that they are a given by now. However, you can take advantage of other forms of compression to gain even better performance. There are tools to streamline stylesheets and script files for machine processing, and your webserver can be set to compress all files before they are sent to visitors. The faster transmission of less data will more than make up for the minimal increase in processing time.
Caching
There are many ways to store, or "cache", frequently used files, so that your site loads more quickly. You probably have heard about your browser's cache, but you don't have to rely on your visitors' software to take advantage of this idea. You can request common utility files from services like Google or Yahoo—besides off-loading some of the work from your server, a visitor's browser may already have those files cached from another site that also used them. Many CMS's have caching features built-in, so that once one visitor has requested a dynamic page, like a blog listing, the software will save a static copy to serve future visitors until the information is updated. Finally, you can install modules for your web server software that will automatic cache content on the server for you.
Content Delivery Network
Part of website performance is how far a visitor is from your web server. If your visitors are spread across the country, or the world, you could greatly benefit from using a Content Delivery Network (CDN). These services maintain servers at strategic points around the world, and when a visitor downloads content from your site, the CDN can send it from a server closest to that visitor's location. Files that don't change often, like images, styles, and scripts, are especially good candidates to serve through a CDN.
Hardware
You don't have to throw more money at a performance problem, but you do need to make sure your site has sufficient "horsepower" to handle the amount of traffic you get. A site aimed at a niche market with a small number of visitors can share a server with other sites. For a site that expects its audience to increase, plan for easy ways to increase hardware resources. There are a variety of tools to help you monitor your site's response, and after you have done all the other optimizations you can, these tools can help you determine when it's time to upgrade.
Conclusion
Your website is an integral part of your marketing effort. People need to be able to find it easily (through search engines), and they have to want to stay once they find it, and convert. You may be a business looking for customers, a non-profit looking for donors, or an ad-supported service looking for users. Regardless of your site's purpose, your site's performance impacts how easy it is to find and then how easy it is to use. This list is a starting point that you can use to help increase your site's performance.