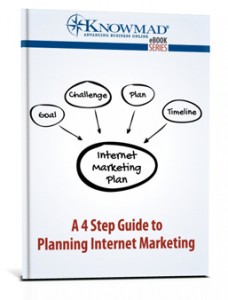 Internet Marketing planning is most effective when it's simplified because you reduce the risk of being distracted from your goal. It's very easy to over-complicate Internet Marketing and we've found that if you can't easily explain the plan to market online and tie it back to financial goals, there is a significant risk of disappointment.
In our inbound marketing resources section, we have a template called the Internet Marketing Planning Template. We've been using this very straight-forward template to simplify planning for both clients & Knowmad.
The template was created based on a presentation at Inbound 2012, the annual Hubspot User Conference. Colleen Carney (@collcarney) presented a simple internet marketing plan, proposing a framework called GCPT which stands for goal, challenge, plan and timeline. Using the ideas in Colleen's presentation, we created an Internet Marketing Planning Template and started using it in our own planning and planning for our clients.
This simple idea is a powerful tool. By narrowing the planning down to these 4 steps, alignment between the goal, challenges, planned activities and timeline is a natural outcome.
Here's an outline of the 4-step Internet Marketing Planning process.
Step 1: Goal
The key to this 4-step approach is goal setting. What is it that you want to accomplish and what impact will this have? What if you don't achieve this goal? By making your goals S.M.A.R.T., you can measure your progress. S.M.A.R.T goals are:
Simple
Measurable
Attainable
Realistic
Timely
For instance, you might decide the goal is to add 60 new customers this year. If you hit this goal, you'll be able to get that new office that you've dreamed of. If you don't, you'll stay in your existing office. To stay on track for this goal, you'll need to add 5 customers a month.
Accurate Goal Setting
Colleen's presentation,"The Best Marketing Plan You've Ever Written", contains three real-world examples of accurate diagnosis and goal setting. I highly recommend a quick read through her presentation to learn more about accurate goal setting.
Step 2: Plan
How are you going to achieve your goal? What resources will you need? Will you need additional budget?
Be Mindful of Assumptions
Watch for assumptions when setting goals. Increasing website traffic is an easy solution to offer for poor Internet Marketing performance. While that may be accurate at times, generating more traffic isn't always the answer and you may need to get creative on how to get the right kind of traffic & visitors.
Included in the list below are some common examples of problems and related plans.
Low traffic; low conversions; poor sales leads: Consider adding more offers & ways to increase quality traffic & visibility.
Reasonable traffic; low conversions; poor sales leads: You may want to add more offers & opportunities for conversions, then evaluate & improve bottom-of-funnel offers.
Reasonable traffic; high visitor conversions; poor sales leads: Evaluate & improve bottom-of-funnel offers.
This list is just an example. If you have questions about your specific situation or need Internet Marketing support, please contact us for a free, no-commitment Inbound Marketing assessment.
Step 3: Challenge
While you're making your plan, jot down the risks you anticipate. When you've identified the risks associated with the plan, go back and review the plan. How can you mitigate those risks?
Step 4: Timeline
How long do you have to achieve the goal? Does the timeline introduce additional risks or require some additional planning to meet the timeline?
Now you've got a clear plan on what you want to achieve, how you'll move forward and how to measure your progress as you go. Download your free copy of the Internet Marketing Planning Template in our resources section.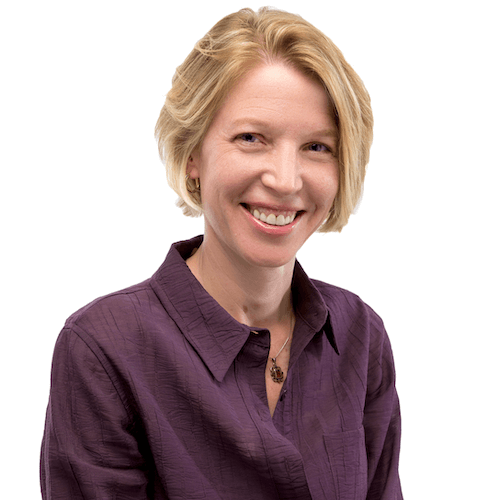 Diona is a managing partner at Knowmad. Her areas of expertise include digital marketing strategy, project management, brand management, search engine optimization (SEO), pay per click advertising, inbound marketing, content marketing, conversion rate optimization, social media marketing and website design.