The following guest post is from our friends over at Kissmetrics.

Today's marketers have a much bigger role in growing a company than the marketers from just a decade or two ago. With an increasingly amount of channels and messages, it's now the marketers primary job to fuel growth for a company.
Modern digital marketing is powered by both art and science. The science shows you what's working and what's not, while the art is the intangibles. Marketers create the art based off the science.
In this post I'll introduce you to a tool that powers the science of marketing. It's called Kissmetrics, and marketers around the world are using it to optimize their marketing.
Kissmetrics is broken down into "Reports" where you can zero in on your marketing data to see how people interact and respond to your marketing campaigns. KM provides the flexibility to see and understand performance cross-device and cross-platform for continuous monitoring and optimization. The eight reports are as follows:
The Funnel Report

The Cohort Report

The Revenue Report

The People Search

The A/B Test Report

The Path Report

The Power Report
But first, let's lay some groundwork.
Two Analytics Data Models
You may be thinking to yourself, "how is Kissmetrics different than Google Analytics?" Let me be the first to tell you - you're not the first person to ask. We've been asked it many times, and have a blog post that outlines some differences. But I'll save you some time and give you a quick breakdown here. If you want more details, just check out the blog post.
Tracking Visits
The first issue that comes up when discussing analytics is how to track when people visit a site. Here's where Kissmetrics and Google Analytics split and take different approaches.
Google Analytics tracks users, sessions, and pageviews.
Kissmetrics ties every visit back to that person. If you have some way of identifying people on your site (i.e. email registration) then all their visits are tied back to that email address. If they visit your website on multiple devices, all data gets tied back together once they identify (i.e. login) on that device. All historical data is transferred over as well.
To give you an example, let's say Joe Smith visits your SaaS website. Kissmetrics picks up this visit and assigns him this ID:
c4svo/sqophxxkpsdvify7eqsg8=
Anytime he visits, he's given this ID. All activity he does is then tied to that ID.
Fast forward a week, and he signs up for your product. You use email addresses to identify people, so once he signs up all activity from this ID:
c4svo/sqophxxkpsdvify7eqsg8=
Gets transferred to his new identification, his email address:
All historical data is transferred, and any future activity Joe does is tied to his email address.
Now, why does this matter?
We've discussed this in a separate blog post (we write a lot), but the big advantage is that you'll be able to find segments of people and target them more effectively. We'll get into this later, but this can provide a ton of insights and really help you optimize your marketing.
So, now we've covered how Kissmetrics is a people-based analytics platform and why that matters. With this groundwork, let's see how this works in each report, starting first with one of our most popular reports.
Funnel Report
The Kissmetrics Funnel Report provides marketers with a top-level view of how their funnel is performing.
For the uninitiated, a marketing funnel is the set of steps a visitor needs to go through before they can reach the conversion. This conversion could be a signup, purchasing, email newsletter signup, whitepaper download, etc. Whatever your conversion point is, the funnel shows the major steps that lead up to to that conversion. It shows you where you're losing visitors (and thus customers).
Here's what the Kissmetrics Funnel Report looks like:

This is a basic 4-step process for an ecommerce company. A person visits your site, views a product, adds the product to their cart, and purchases. We can see we have two major roadblocks to conversion - from viewing a product to adding a product to the cart, and from cart to purchase.
Looking at this funnel another way, we can see where we have opportunities for growth:

We can improve this funnel in three ways:
A/B test

the product and cart pages. Test variations of each of these to see if a variant brings a lift.

Zero in on the problem areas, particularly the steps from cart to purchase. This is the checkout portion of the site, and a lot of people may get stuck at a certain page and that's hampering your performance. I discuss

the value of micro-funnels in this post

.

Improve the traffic coming into the funnel. If you're an ecommerce store selling baby food but all the traffic coming to your site is from 60+ year old single men, you won't get any sales. And it has nothing to do with your product pages or your checkout process. It has everything to do with the wrong market visiting your site. But to improve traffic to your site, you first need to know where the converting traffic is coming from. Let's get into that now.
Segmenting Your Traffic
Since your traffic is likely not coming from just one source, it's important to find your high-converting traffic segments. And the Funnel Report allows you to segment (fancy analytics word for "group") your traffic.
You can segment your traffic by virtually anything - marketing channel, marketing campaign, referrer, geolocation, browser, device type, etc. The funnel below is segmented by Origin. This shows us the referring URL/domain or Campaign Name. Here's the data (note that the traffic numbers are slightly different from the above funnel):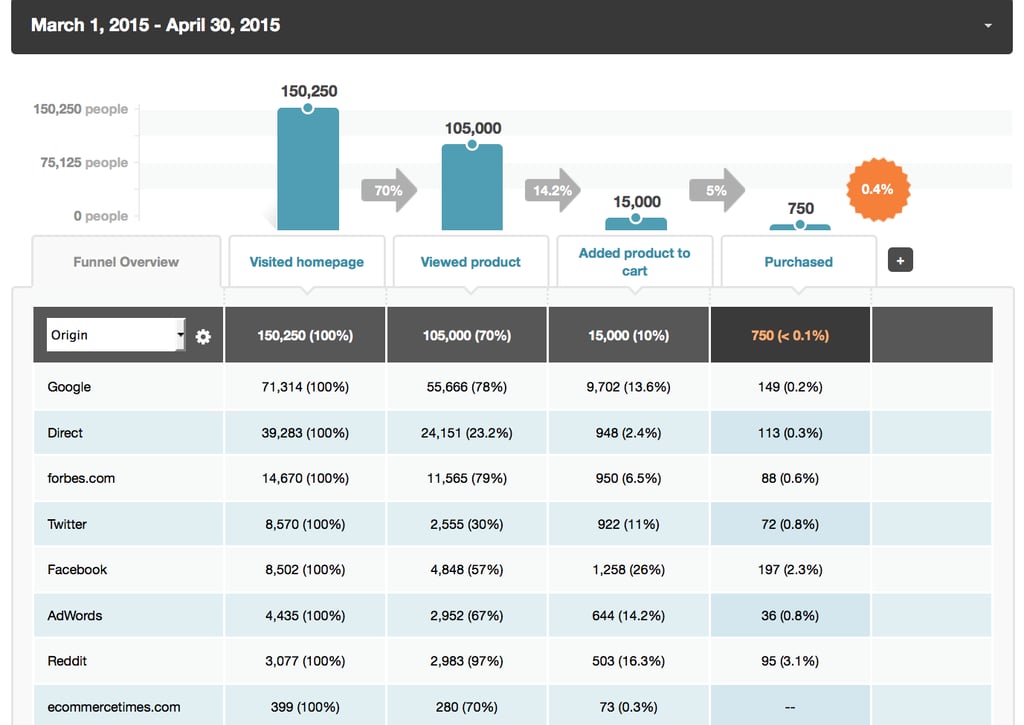 We can see the traffic from Reddit and Facebook are our highest-converting traffic segments. This means that people who were referred from these sites are more likely to convert than any other site on this list.
Here's the big takeaway - the free referral traffic we get from Reddit and Facebook convert better than the paid from AdWords. This isn't to disparage AdWords traffic - it's one of the better segments.
From here we should do some research to see where we're getting links from in Reddit. This is pretty easy - just change from "Origin" to "Referrer" and we'll get a list of the exact URLs that are sending us traffic and conversions. It looks something like this (your data will vary, of course):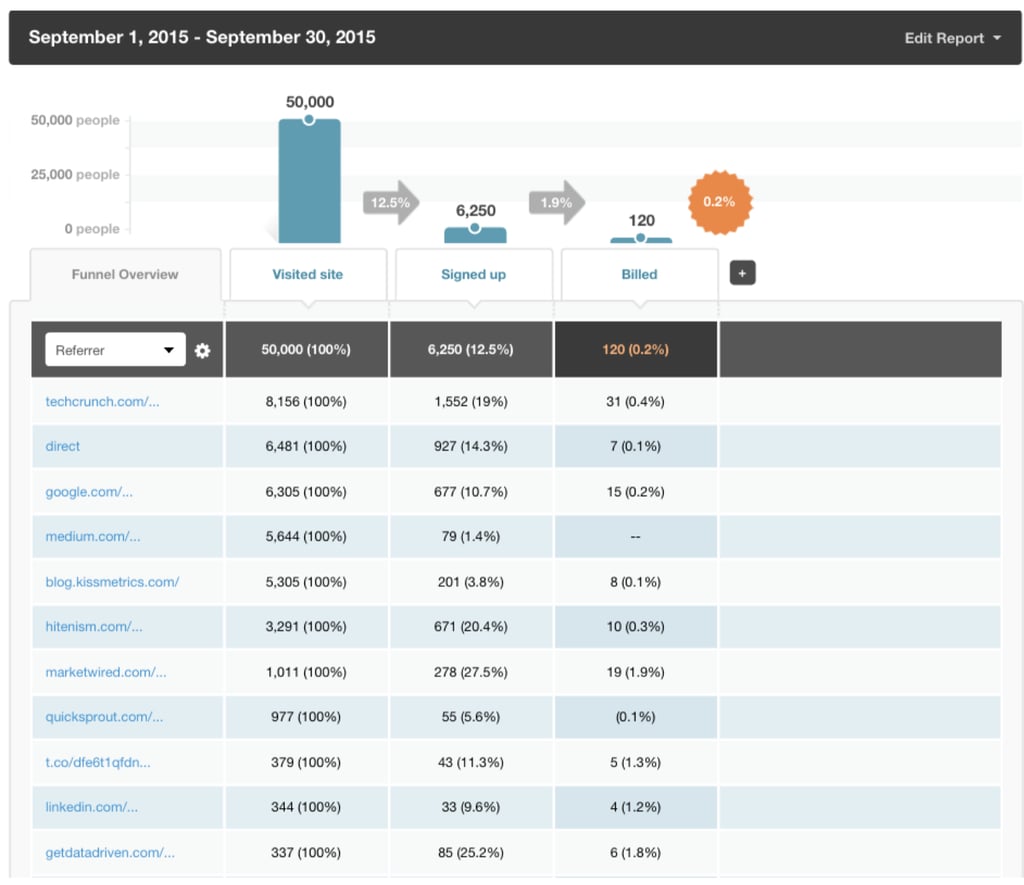 Optimizing Your Funnel Means Optimizing Your Bottom Line
The bottom of the funnel is tied to your bottom line - it's where you get paid. By optimizing your funnel, you are optimizing your business.
Now that we know what the funnel is and how important it is for your business, let's move on to another popular Kissmetrics report - the Cohort Report.
Cohort Report
The word "cohort" can be scary to those unfamiliar with the term. It may sound like something out of a medical journal or statistics class. But I promise you, there's nothing to be afraid of.
And, if you're a marketer, it's pretty important to understand cohorts if you want to get into and benefit from marketing analytics.
So, what is a cohort? Wikipedia defines it as:
"A cohort is a group of subjects who have shared a particular event together during a particular time span (e.g., people born in Europe between 1918 and 1939; survivors of an air crash; truck drivers who smoked between age 30 and 40)."
Pretty simple, right?
So, how does a cohort help marketers?
Since marketing campaigns and messages change about as often as the seasons, a cohort can tie people together who have seen a certain ad campaign/message and see how that impacts conversion rates down the road.
As marketers, we often think that people decide to convert immediately after seeing our message. In many cases this just doesn't happen. For example, a person may first visit your site via an AdWords campaign in February 2015. They visit your homepage, click around and learn a little bit about your software. They decide to not signup yet but remember your product in case they'll need it down the road. Fast forward to June 2015 and they have a problem that your product solves. They remember your product and type it directly in their address bar, and proceed to signup.
Are you beginning to see the problem that might occur?
In many cases, the campaign and messaging in June 2015 will get the credit for this conversion, when it was actually in February that they first discovered you and that initial interest was piqued.
The Kissmetrics Cohort Report is a step to help solve this attribution problem. In the screenshot below, the Cohort Report is tracking people that visited the site and signed up. We're grouping people by when they visited, and tracking how long it takes them to come back and signup after their initial visit.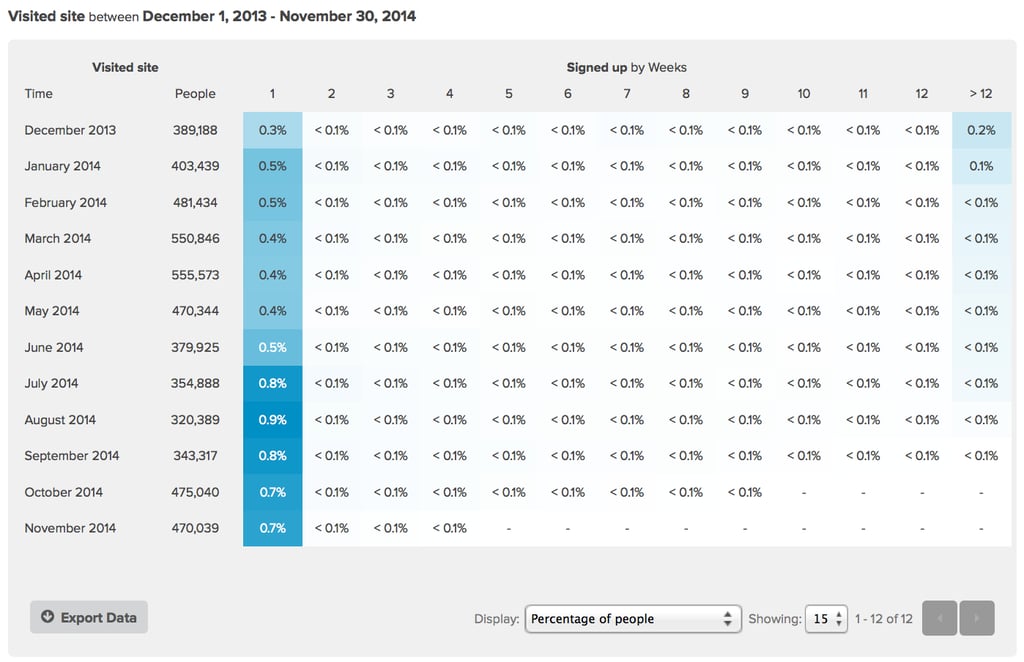 We can see that the bulk of signups come in the first week of visiting the site. The numbers jump a little (darker shade of blue) as more than 12 weeks pass, but ultimately remain at less than .01%.
Data will vary, of course. For some companies, it may take a couple weeks from first visiting the site to signing up (you can track by the minute in the Cohort Report). For others, it may take a while. Types of companies with longer buying cycles may be B2B products where cost is a bigger consideration.
Ecommerce companies will also benefit from this kind of analysis. How do seasons and marketing campaigns affect conversion rates? My guess is few people who are visiting an ecommerce site make a purchase on that first visit. Do people who visit in September make their purchases in December, when all the sales are available? Or do promotions have little effect? Lots of interesting data to dive into.
On top of tracking acquisition, the Cohort Report is also useful for tracking retention. You may track login retention (i.e. how often people login to use your product) or repeat purchases if you're an ecommerce company.
Here's login retention for a SaaS company. We're grouping people by the marketing channel they first came from: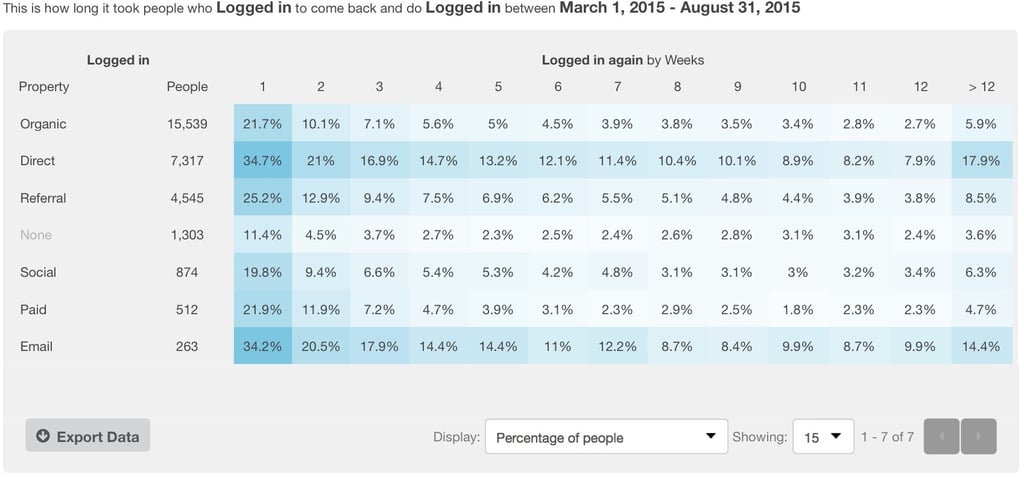 Login retention numbers will vary for each product. Some, like about.me, are more of a "set it and forget it". Others, like Kissmetrics, are used more often - at least once a week. Depending on your company, you'll want to make sure you're getting the type of retention you're looking for. If not, it may be a sign you haven't reached product/market fit yet.
Keep in mind you aren't limited to tracking logins. You can track how often people pay you, when they use a feature, how soon after signing up they need to contact support, how soon after signing up they cancel, etc. There's a lot of data you can track, so it's important to track only what matters to your business. Otherwise you'll drown in data and will become too overwhelmed to make decisions.
Ecommerce companies may want to track repeat purchases, duration from first visit to first purchase, purchase to refund length, purchase to referral duration, etc. These are just general things for ecommerce to track, your company may have different goals and therefore track completely different metrics.
Revenue Report
So tracking conversions is great. It can show how effective our marketing campaigns are and we can use the data to improve. But, as of now, we haven't showed how these marketing campaigns can tie directly to revenue.
This is where the Kissmetrics Revenue Report comes in. With this report, you can tie marketing campaigns and activities to revenue.
Here's the Revenue Report looking at how marketing channels are impacting revenue. You'll notice a few extra metrics - revenue per person, lifetime value, paying customers, and churn rate. All these metrics are tied to that respective segment: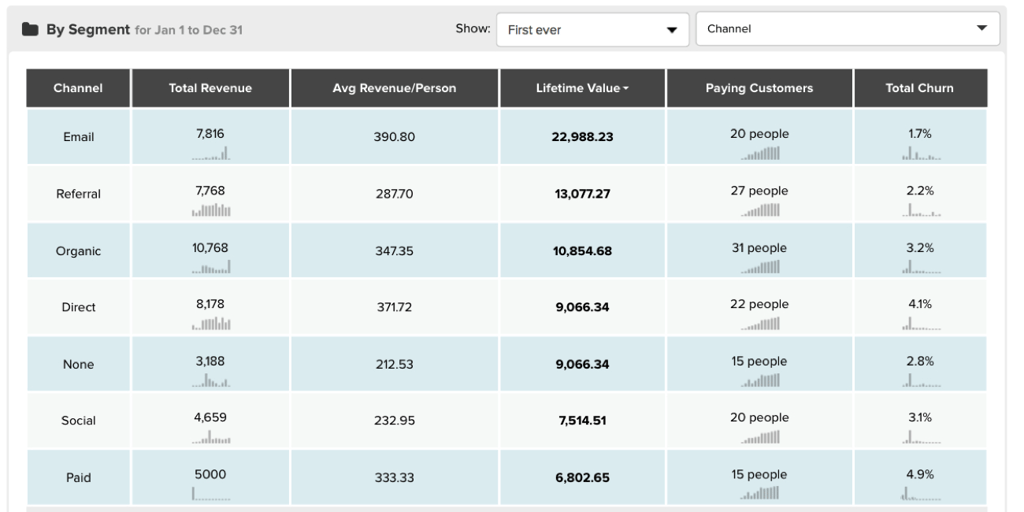 This is sorted by lifetime value.
We can see that email is the channel that brings the highest value customers. However, the biggest chunk of total revenue is tied to visits from organic search. Its churn rate is also relatively low. Using this data, we know which marketing channels are performing well. We'll know where we should continue our efforts, and where we may need to spend less resources on. We can use the Channel: Origin property to identify which paid campaigns aren't performing well.
Segmenting Revenue To Discover What's Working
Here's the thing - taken together, revenue is just a number. Just like your conversion rate, by itself, it may not tell you much. Revenue needs to be plotted on charts (which the Revenue Report does) and it needs to be broken down so you can find the best segments. This provides some context and will help you identify what's working and what's not so you can cut and refine your marketing.
And you aren't limited to grouping revenue by marketing channel. Slice and dice by what industry you're in. For SaaS, this may be plan size and for ecommerce it might by product type.
People Search
This is one of my favorite reports. Think of this report as a search engine for all the people that have visited your site.
Before we dive into this report, let's first discuss some more details on Kissmetrics. You already know it's a people-tracking platform, but there are two other things to keep in mind here:
Events - These are actions that a person takes on your site, such as signing up, clicking an advertisement, placing an order, viewing a product, requesting a demo, etc.

Properties - These are characteristics about each person that visits your site - such as whether they are returning visitor, their location, browser, what plan they're on (in the case of SaaS), what product categories they order (in the case of e-commerce), what variation they were in in an A/B test, etc.
Okay, so now we know events and properties. The People Search allows you find people based on a specified criteria. So, people who have signed up but have not used a feature. Or people that have put an item in their cart but have not ordered.
Let's say we're a SaaS company and we want to find the people that have signed up but have not used a feature. We have events firing for when someone does both, so we can find these people with the People Search: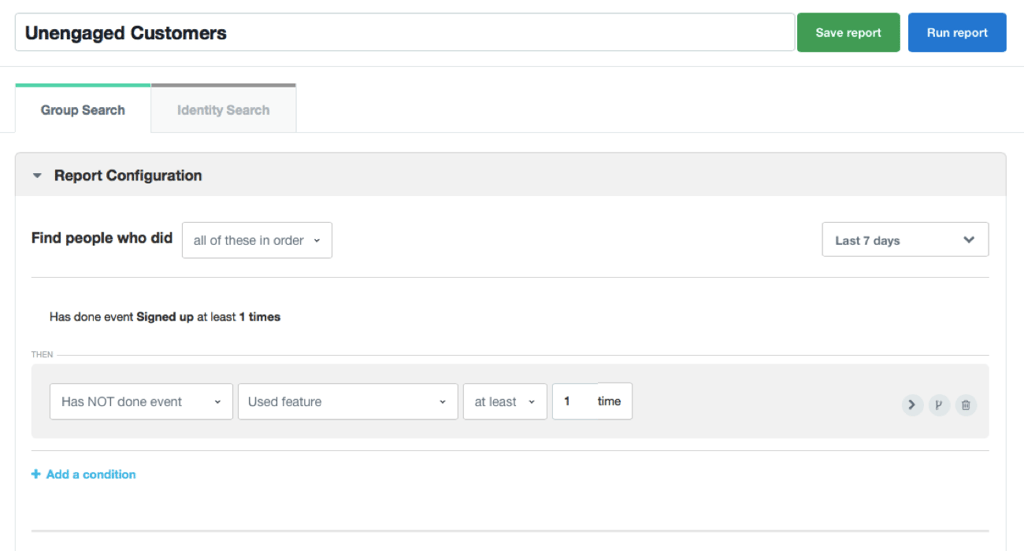 With this setup, we're looking at people who signed up and have not used a feature. Our date range is the last 7 days, so they need to have signed up and done pretty much nothing after that.
We'll click Search and get our list of people:

We can click on these people and it'll take us to the person report page, in which we'll see the events and properties tied to them.
We can also export this data and send emails to each of these people to try and get them re-engaged with the product. As of right now they certainly won't pay for the product, but chatting with them will give us some valuable feedback as we learn why they haven't used the product yet.
You can also use numeric values in the people search. So if we're an e-commerce company and want to find our highest spending customers, we'll just need to do a few things:

Here we're looking for people that have purchased at least once from Jan 1 - March 31. We're adding additional criteria by only looking for people that have made a purchase(s) equaling at least $100.
We'll add a column to this data that will show us the total amount each person has spent during this date range.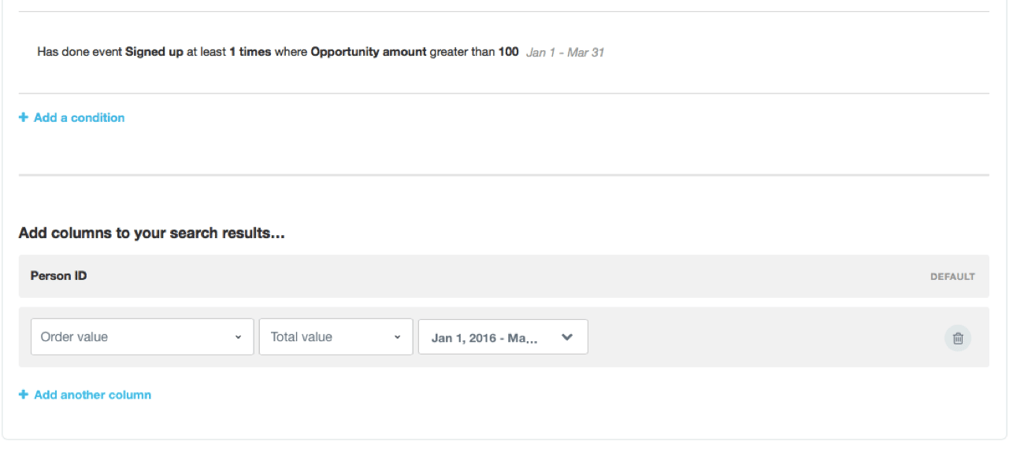 We'll click Run Report and get our data: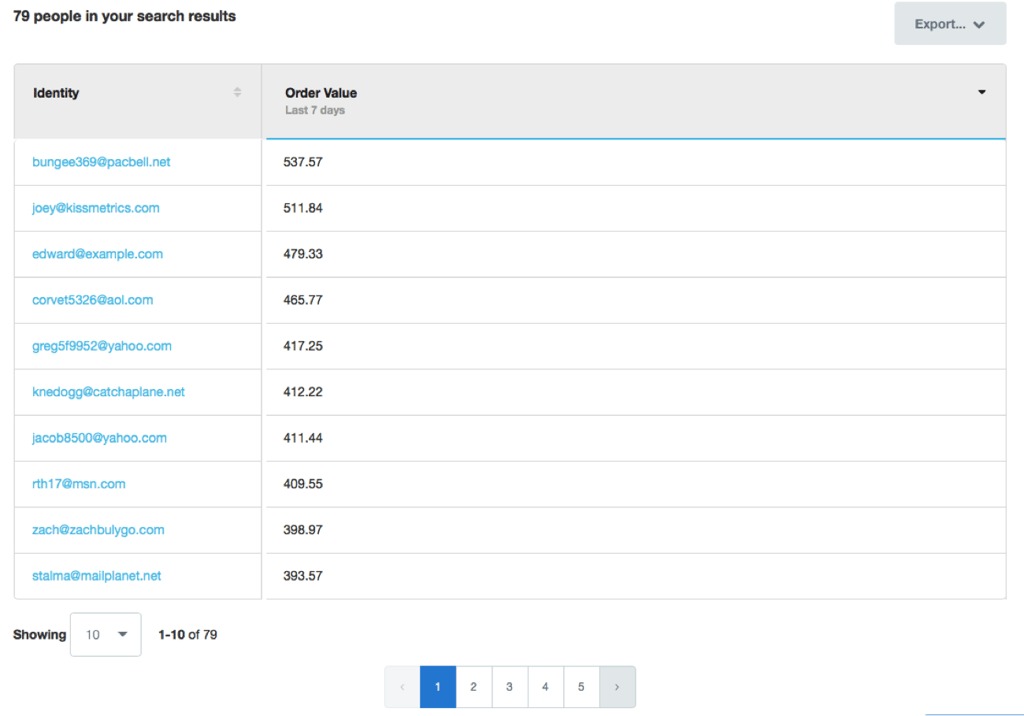 These are high value customers who spend a lot of money, so we'll want to make sure they stay as customers. We can add them to an email list so they get special offers. We can also run a report that looks at customers that have purchased over a specific amount during a specified date range but have not purchased since. We can add those people to an email list to try and get them to repurchase.
Here are some other ideas for how SaaS and e-commerce companies can use this report:
SaaS:
People that signed up for a free trial but have not upgraded to paying.

People that have used a feature x amount of times (these are your power users).

People that are paying you but not using the product (to try and re-engage these people).
E-Commerce
People that have added an item to their cart but have not purchased

Customers that have purchased in the past but not made a purchase in the past x amount of days

Customers have made a purchase with a specific coupon code
A/B Test Report
The first thing to mention here is that the A/B Test Report is not an A/B testing tool, it reports on the data from the test. You still use Optimizely, VWO, or any other integration we have. The data is then passed into your Kissmetrics account.
The biggest benefit is that the report allows you to test any part of your funnel - you aren't limited to the next conversion step. So if you're a SaaS marketer running a top of the funnel test on your homepage - you can see how it impacts the funnel further down, such as product activation. Additionally, you can test other conversion events no matter where it is in the funnel.
In addition to testing any part of your funnel, the report also imports all test data into Kissmetrics. And since Kissmetrics is a people-based analytics platform, you'll be able to see the people that were in each test variant. So for example, if a new headline variant makes a promise that the customer will achieve a 500% ROI within a year of signing up for product, you'll be able to know exactly who saw the variant with that headline.
Let's walkthrough the report.
The first step is to choose the conversion event. This is where you pick signup, product ordered, submitted form, etc.
After you select that, you'll set the experiment. All our integrations are imported as properties in Kissmetrics. So, if you named your test "Homepage Headline Test May 2016" then you'll select that as your experiment.

Then just click Run Report (or Save Report for later):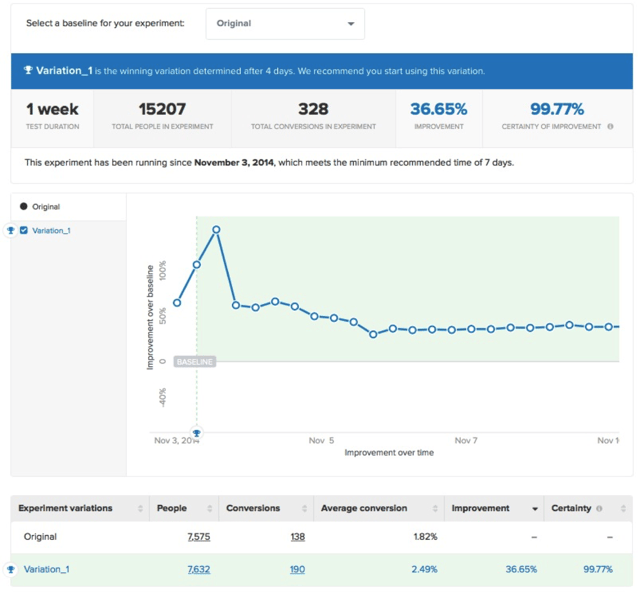 This is how our A/B Test Report looks. At the top, we select the baseline for our experiment. In our case, we're choosing the original headline and comparing it against the variant. As you can see, highlighted in bright blue, the Report has declared the variation headline a winner after 4 days of running the test.
Below that, we see various metrics about the number of people in the experiment, the percentage improvement, and how certain it is. "Certainty" in Kissmetrics means statistical significance. When a test is statistically significant, it basically means that the data has become reliable enough to call a winner.
And then there's the data visualization. The dotted line represents how the variation headline performed against the original headline. We can see that throughout the entire duration of the test, the variation has outperformed the original.
And, in the last section, we see the number of people who saw each headline, how many people converted, the conversion rate for each headline, the percentage of improvement, and the certainty of improvement. In this test, the variation is the winner with a 36.65% improvement over our control, and the certainty is over 99%. You can click on the number of people to see all the people that were in the experiment, and clicking on a conversion number will show you who converted for each respective variation.
That covers the A/B Test Report. Now, let's move onto our next report, Path Report.
Path Report
Here's the situation: you have a lot of conversion events on your site (signing up, downloading a PDF, requesting a demo, purchasing, etc) but you don't know the key steps a person takes before they convert. Maybe it's viewing the pricing page that leads them to signup, your features page, or viewing a product video. But right now, many of you probably don't know which key events lead to signups.
We built the Path Report to help answer this question. Using this report, you'll see the first event and the final event and the 5 events after the first events or the five events leading up to the final events. Here's what the report setup looks like: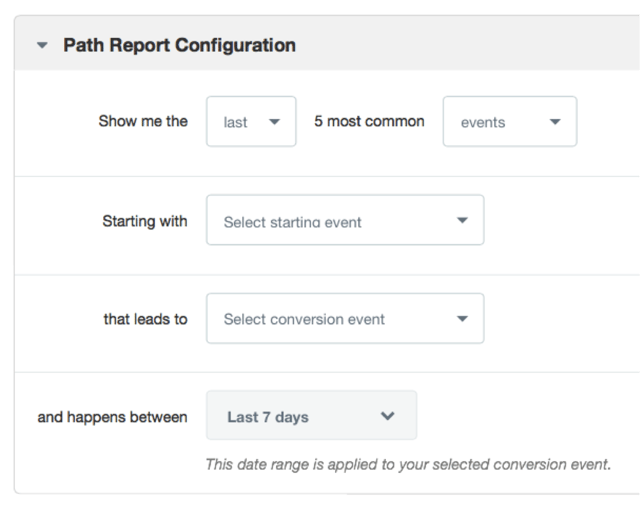 We can choose to see the last or first most common events or properties that start and end with a conversion event. Then we choose a date range for when the conversion happened.
So, let's say you're a SaaS marketer and you want to find the most common paths people take to signup. You'd set your first event to "Visited Site" and your conversion event to "Signed up" and get the data:
This report finds the people who have performed the event "Visited site" and, later, the event "Signed up." It finds the events they took from the starting event "Visited site" to the ending event "Signed up." It's sorted by people, but we can choose to sort it by total number of conversions, conversion rate, or the overall time it took people to convert.
Let's sort by total conversions.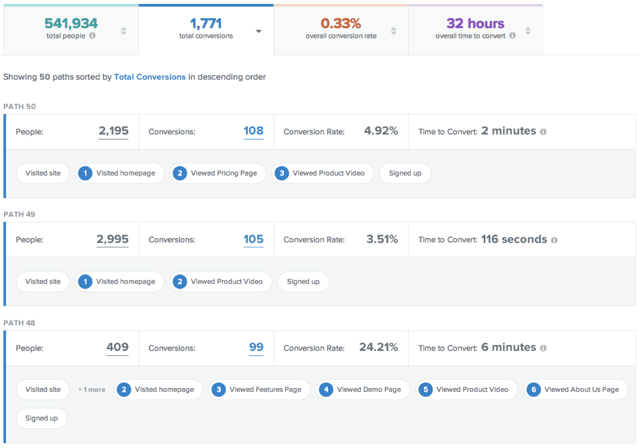 This view shows us the paths that lead to the most conversions. As we can see from this report, most people go through only a few events before converting. These top three paths show us that most people view the product video before they convert. We can look through other paths and see if viewing the product video is a common path people take before converting. If we find that it's a trigger that leads to conversions, we'll want to feature the product video more prominently on our website.
The big insight discovered is People who view the product video appear to have a higher likelihood of converting to "Signed up." The more eyeballs we can get on this video, the more signups we'll get.
So that's the Path Report. Let's move onto our final report, the Power Report. There's no other report like it.
Power Report
None of our competitors have anything like the Power Report. And while it is a bit more complex than our other reports, it can answer some key business questions that other reports cannot answer. Additionally, there aren't any complicated SQL queries to run. This means that you won't have to bother a developer anytime a question pops in your mind that only an SQL query can answer.
In essence, the Power Report lets you test multiple metrics against multiple segments. This means it can answer questions like:
Which features get used most often by different customer types?
How do cancellations compare among different traffic sources?
What behaviors separate your power users from your normal users?
How does an A/B test impact signups across paid and non-paid traffic?
Let's answer that last question with the Power Report. Our scenario is that we're A/B testing our signup flow, and we know that different groups of people bring more revenue than others. On top of this, we're running ad campaigns and want to see the impact the A/B test has on campaigns.
This is a relatively complex question, and only the Power Report can answer it. Here's how we would set it up: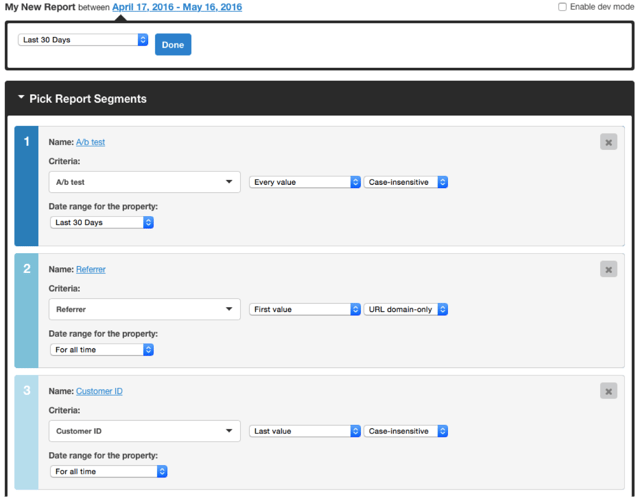 Here we set our segments. We're choosing A/B test, referrer, and customer ID. You'll see what role this plays when we run the report. But first, we need to pick our columns.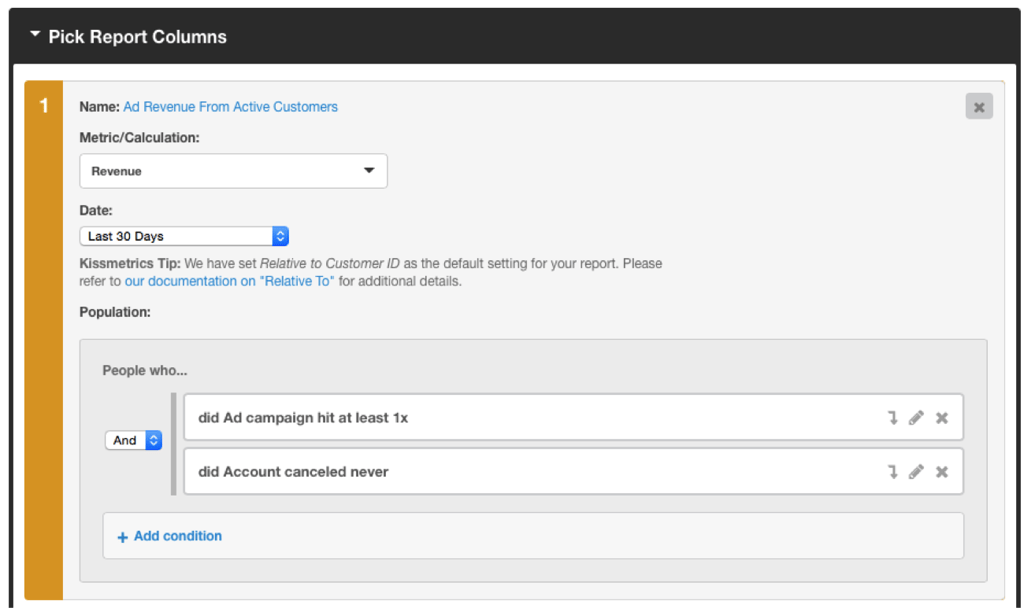 We're calling our first column "Ad Revenue From Active Customers". These are people that came from an advertisement and have not cancelled their account.
The second is the same thing but these customers have never came from an advertisement.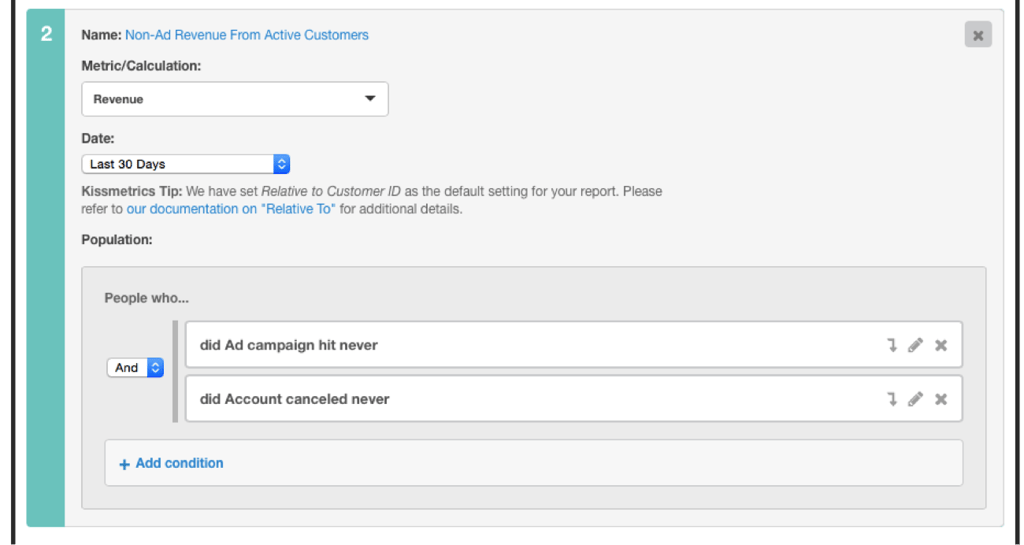 Let's run the report and get the data.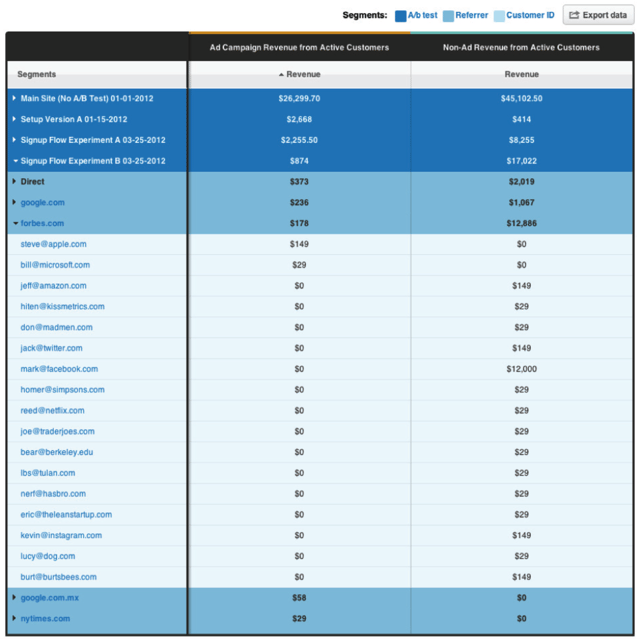 When looking at the Power Report, remember that dark blue is the top segment (A/B tests in this case); the light blue shows which referrers are contributing revenue within each A/B test; and the white shows which customers are coming from that referrer.
Here are the results from the A/B test:
Version A: $2,255 from campaign traffic and $8,255 from non-campaign traffic.

Version B: $874 from campaign traffic and $17,022 from non-campaign traffic.
Version B has much less revenue from campaign traffic but tons from non-campaign traffic. We can see that mark@facebook.com, who came from forbes.com, is the primary driver of that revenue with $12k contributing to the $17,022. So while Version B is crushing it with revenue, it's unlikely that we'll be able to acquire similar customers as mark@facebook.com from that traffic source. If you take out that $12k, you see that Version A is the clear winner. We've received more revenue from both campaign traffic and non-campaign traffic. This means that we should push Version A live to 100% of visitors. In the meantime, we should continue to focus on getting links and mentions from forbes.com, as a big portion of revenue has come from this site.
If we weren't using the Power Report, we wouldn't have this information. We'd see that Version B is the clear winner, without noticing that the majority of the revenue can be attributed to one person.
Put simply, the Power Report can answer a lot of questions that other reports cannot answer. None of our competitors offer anything like it, and it's only available on our Power Plan.
Conclusion
That covers it! We've gone through why Kissmetrics is a people-based analytics platform, and outlined all the reports we offer.
With marketing moving more digital, it's become increasingly important that marketers have a tool that will help them track all their marketing activities across channels. We've built Kissmetrics to help marketers track and analyze their online marketing.
If you're interested in learning more about Kissmetrics, check out our website. To see more examples of how Kissmetrics can help optimize your marketing, go to the Academy section of our blog.
And finally, if you have any questions about Kissmetrics, please drop a line in the comments section and I'll be more than happy to answer.