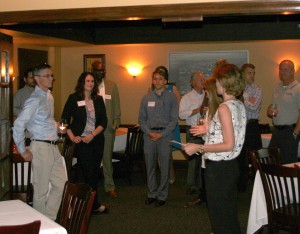 Our theme at Knowmad in 2015 has been growth. We have celebrated growing our team, allowing us to deliver better value and increased services to clients, as well as the growth of our clients whom we have worked with to implement and grow digital lead generation platforms. Last Thursday, we celebrated these successes with a group of current clients, past clients, and business partners with an evening of networking, conversation, and of course, food and drinks.
Celebrating Growth
We are pleased to have helped Lexington Square create a digital marketing program that has helped the senior living program realize $1M in new sales. Long-time client Mallard Creek Polymers has realized a consistent growth in web traffic and a steady flow of leads from their digital marketing efforts. Over the past year, Mallard has integrated the HubSpot CRM and began content marketing through blogs and upcoming white papers.
Another long-time client, Barnhardt Cotton, has used digital marketing to engage with and grow their audience of product designers and R&D experts. Now, sales and marketing teams can directly reach stakeholders who determine where and when to use Barnhardt's products. To illustrate these concepts in action, William McKee conducted a candid interview with George Barnhardt, Vice-President of Sales and Marketing at Barnhardt cotton. I imagine I speak for us all when I say it was interesting to hear George's perspective on the challenges and successes associated with an inbound marketing strategy.
Three Things We Each Learned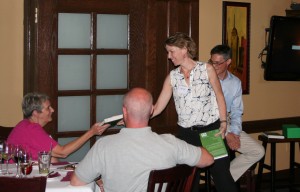 Since few celebrations are complete without swag, prizes were up for grabs. Diona warned the crowd at the beginning of the event that winners would have to share three things they learned from others in the room to accept their prize. She then promptly forgot to enforce her own rule. To make up for it, here are three things each of Knowmad team member learned.
William
Combining groups of people together in new situations creates new connections and deepens existing ties. There were a number of attendees from companies that have worked together, people who previously knew each other from social settings, and even previously unknown connections that were discovered.
I knew there would be an opportunity for our colleagues to discover synergisms between themselves. I was surprised by how many times I heard plans to keep the conversation going after the event.
We have a great team, great clients, and great partners! Why did we wait so long to bring them all together in the same room?!
Although we take it for granted because we do it every day, many people are still trying to get on board with inbound marketing concepts.
Polymers, like the ones made at Mallard Creek Polymers, are in literally everything around us.
Speaking of polymers, our marketing contact at Mallard and chemist-by-trade Brennon is working on her MBA with a focus on global business.
I enjoyed learning more about our guest's businesses. Murdoch at Driving MBA has interesting ideas on how to market and grow his driving simulation business.
Rahul owns the software business Application to Go, and he created a software that writes software for others.
Charlotte Pipe and Foundry makes castings I probably see every day, but that I don't really think about. For instance, they cast the gas caps you see in the ground at gas stations where big rigs deposit the fuel they are carrying into underground tanks.
Phil at Mariner is a great speaker who knows how to simplify complex subject matter, and he recommended our client ABT Power Management for the North Carolina Technology Association's "Internet of Things" panel discussion. He knows so much, he should write a book.
Fabi from Spark Publications completed the Goldman Sachs 10,000 small businesses program with William this past spring. Speaking of unknown connections, I had previously met Fabi at an open house months ago.
Mike from Charlotte Pipe and Foundry possesses the coolest pen ever (it has a flash, a laser, and a light), loves the TV show How It's Made, and invited us to tour the plant.
I'm always interested in hearing about businesses challenges because I'm convinced I can address them through some form of content or another. I enjoyed listening to the challenges Murdoch shared about getting the word out about his driving school and was surprised to learn that in many states, driver's education has been removed from the curriculum.
Fabi and Laurie from Suite 1000 shared great insights on the challenges associated with hiring the right talent. As small business owners, this is just one of many hats they wear, but an interesting one to be sure.
Frank at LEC Media dislikes Cleveland. To be fair, Frank expressed he would prefer to attend a conference in Boston over a conference in Cleveland. Yet, then he continued to bash Cleveland. This went on for a good five minutes before Frank asked the question that inevitably arises when one lives in a city of transplants like Charlotte, "So, where are you from?" "Ohio," I replied.
Looking Ahead
While you'll hear us talk about web traffic, sales leads, conversion and click-through rates, we ultimately measure ourselves by the growth our clients experience as a result of the digital marketing services we provide. We continually seek to improve the value these services deliver to our clients' business objectives, and we were happy to celebrate both our and our clients' successes.
As we round the curve into autumn and year-end, our focus is turning to the intersection of digital and analog. Specifically, we are interested in learning more about the processes around how digital leads are nurtured and moved into the sales process. In the meantime, you will find us sponsoring the Fast 50 Awards in December.