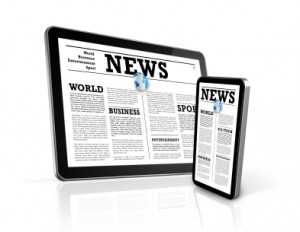 Responsive Web Design has become the most popular way to serve users of mobile devices, like smartphones and tablets. Knowmad has been out front on this trend because we recognized early on that responsive design was a cost-effective and easy-to-maintain way to increase your response rate and lead generation on mobile devices. (See the article Industry Watch: Responsive Web Design that we published over a year ago.) Now, there are a plethora of articles about what responsive web design is. You can find out about issues like flexible layouts, media queries, and other technical details very quickly without a lot of searching.
As with any trend, however, it is easy for people to tell you what you are suppose to do. Doing a good responsive web design for your website requires forethought about the how and the why of your site.
I assume that you agree on the need to reach users of mobile devices through your website. I am not going to cite the mountain of statistics about mobile usage that grows, like Kīlauea volcano in Hawaii, every day. You already know how more and more people are browsing, researching, and buying on the web with mobile devices. You know your business needs to be more accessible to those potential customers. I'm also assuming thatmaking your new or existing website responsive on mobile devices is the best use of your time and money (rather than creating a separate mobile site or native mobile app).
Responsive Web Design in Website Strategy
Your website is a key tool in marketing your business. Responsive web design helps you use that tool to get leads and grow your business.
A responsive web design needs to take into account your internet marketing plan in general and the goals you have for your site in particular. It needs to be informed by your site's content strategy. Most importantly, it needs to encourage, and not discourage, people from doing business with you.
Say someone does a web search for a need that your business can help fulfill. That person clicks on a search result or ad, and comes to your website. This is the first place where having a responsive design can help.
If that person is standing in line, or in a waiting room, or sitting on a couch instead of at a desk, you still want your site to be easy for them to read and use. You don't want a visitor to have to pinch and scroll just to find out if they've come to the right place. A responsive web design is a subtle way to show that you care about your visitor's experience. You make it easy for them to use your site.
Wrap It Up, I'll Take It
The real benefits of planning how you are going to implement a responsive web design for your website are in fact the same benefits you get from planning in any aspect of your marketing.
What will make people want to read what's on my site?
How do I move those readers along the path to becoming my customers?
Which elements of my site do the best job of attracting and converting customers?
Responsive web design isn't just some feature, like a stock ticker, that you you can bolt onto a site, and all of a sudden start getting customers on the web. The hardest, and most rewarding, part of implementing a responsive is planning for how you will do it.
(In a future article, I will address issues specific to adding responsive web design to an existing site. Stay tuned.)