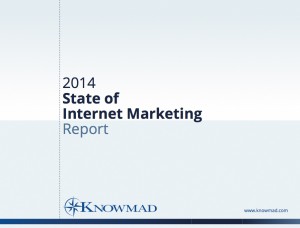 Over the past few months, we've been diligently working on putting together our annual Internet Marketing Report. This report, titled 2014 State of Internet Marketing Report, is compiled from the results of our survey that was completed by marketing professionals and business owners from such industries as advertising & marketing, manufacturing, computers/software, business services and professional services (eg: legal).
By reading our report, we hope you will gain new information that will assist you in your quest to improve your own Internet Marketing. As we're sure you already know, lessons learned from your peers' successes and failures are very valuable.
A few things you'll learn
• How much do you need to spend on digital marketing to succeed?
• What are successful Internet Marketers doing that others are not?
• Which tactics are most and least effective?
• Which social networks are marketers using most?
• Where are marketers finding the resources needed to succeed?
If that isn't enough incentive to download this free report, here's another. What made the biggest year-over-year gain in reported effectiveness for successful marketers? Blogging and social media with a 24% and 15% gain respectively.
This is just one of the many takeaways you'll receive when you read the full report. We provide statistics so you will have a head start on knowing exactly which marketing methods have been proven to be effective.
Happy reading!