We are proud to announce that the Knowmad Digital Marketing team has been recognized as one of the top B2B service providers of 2022 in the Charlotte area by UpCity!
For more than a decade, UpCity's mission has been—and continues to be—to help businesses find B2B service providers they can trust. The UpCity Recommendability Rating was developed to determine a service provider's credibility and recommendability, giving UpCity the confidence to recommend them to the more than 2 million businesses that visit their site.

Each year, UpCity analyzes and scores more than 70,000 service providers based on their UpCity Recommendability Rating and acknowledges the top national and local providers with an UpCity Excellence Award. The results are in, and we won!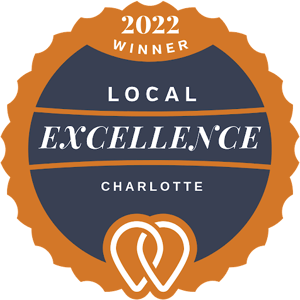 Heidi Sullivan, SVP of Product & Marketing at UpCity, had this to say about Knowmad Digital Marketing:
"The Knowmad team has been a part of the UpCity community almost since it began and we've watched them grow and emerge as one of the top agencies in their class. We are proud to be able to name them a 2022 Local Excellence Award winner."

—Heidi Sullivan, SVP Product & Marketing, UpCity
This recognition has been driven in large part by our 4.9-star review rating on UpCity. Here are a few of our favorite pieces of feedback we've received from our incredible customers:
"Knowmad has been a valued partner for us for over 7 years. Their team is very professional and easy to work with across multiple departments of our team. We have several brands and business units involved with Knowmad at different levels of complexity and they have successfully learned each of the businesses, product lines, and marketplaces in order to better service their individual and unique needs. We consider them more than an outsourced resource for our digital marketing efforts but as a strategic partner and team member for our marketing and sales departments."
- Deanna L., February 2020
"A very professional and attentive staff who really sought to understand our unique business needs before providing insight and guidance. Excellent creative work and intuitive sense of project management."
- John G., February 2020
We strive to do the best work possible for each and every client, no matter what challenge presents itself. Thank you to UpCity for recognizing this hard work and thank you to our customers for choosing us.

Learn more about the UpCity Excellence Awards.