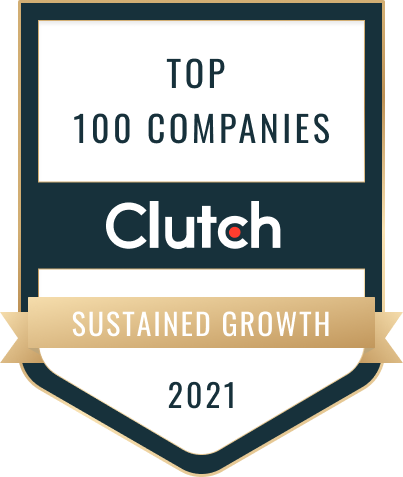 Since 2002, Knowmad Digital Marketing has been making waves in the space, helping firms attract the perfect audience and convert countless visitors. Known as Charlotte, North Carolina's leading service provider that turns digital marketing into dollars. We pride ourselves on our clients' growth and our company's improvements over the years.
In light of our perseverance, we've recently been made aware that our company, Knowmad Digital Marketing, was hailed among the Clutch Top 100 Firms this 2021!
To give you a better understanding, Clutch is a fast-emerging B2B review and market resource platform dedicated to helping corporate buyers connect with the right service providers. Every year, Clutch awards the best firms that showed unparalleled growth, impeccable customer service, and remarkable solutions.
"The Clutch 100 growth lists represent the top service providers based on revenue growth over the years," said Clutch Founder Mike Beares. "Their recognition is only possible because of their willingness to participate and their commitment to delivering the best services to their clients."
A recent announcement from Clutch states that Knowmad Digital Marketing is among the Clutch Top 100 Firms for Sustained Growth! Considering that this recognition is based on each firms' absolute revenue and performance, we are incredibly grateful for this win.
"We are honored to be recognized as one of the top 100 B2B marketing service providers for sustained growth by Clutch," said Diona Kidd, Managing Partner of Knowmad Digital Marketing.
We attribute this success to our clients and their phenomenal support. We want to celebrate this milestone with everyone who helped shape us into the firm that we are today. The Knowmad Digital Marketing family is grateful for the amazing reviews on our Clutch profile.
Take a look at what our clients had to say about our team and services:
"The effort they put into understanding our business and what we're trying to accomplish was very impressive to me. We operate in a niche within a niche in an industry, but they didn't skip over any details or make any assumptions in fitting the product to our needs, which we really appreciated."
— VP, Carolina Traffic Devices
"They're an integral part of our web presence and they provide a personalized experience. We always feel like a priority with them and their people are great. Also, our questions never go unaddressed for very long because they're very quick to respond."
— Marketing Coordinator, Meridian Kiosks
Take your digital marketing program to the next level with Knowmad Digital Marketing. Drop us a line and let's get down to business.