Knowmad Digital Marketing, a top-rated digital marketing and web design agency, is proud to be recognized among Digital.com's top 15 best web design companies in Charlotte.
Digital.com, an independent review site, publishes guides and reviews to help small businesses take their business to the next level with web hosting, website design, and e-commerce tools.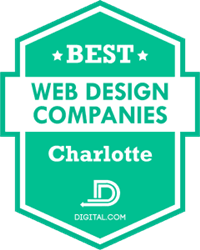 "Digital.com's awards recognize web design agencies who use web design as a strategy for business growth. At Knowmad, we build websites that help brands expand their audience, build awareness, and increase leads and sales. Most design awards focus on the CMS, the design, or project volume. Digital.com's awards only consider firms that offer design and marketing solutions that impact overall business growth and sales revenue. It's a big differentiator in the marketplace. We're honored to have received recognition from them, especially in our hometown market, " said Knowmad Managing Partner, William McKee.
The Best Web Design Companies in Charlotte award is based on the provider's digital marketing service lines, the firm's size, industry focus, and the must-have features included in each web design project.
Digital.com uses machine learning and sentiment analysis to identify and evaluate Charlotte's top web design companies. They evaluated 65 web design companies by comparing costs, features, and customer sentiment. They narrowed it down to 49 companies and conducted a 40-hour assessment to select the best companies. Since 2015, they have been connecting digital service providers with small business and corporate clients.
About Knowmad Digital Marketing
Founded in 2002 and headquartered in Charlotte, North Carolina, Knowmad helps small & mid-sized companies grow their business using digital marketing and marketing technology. In addition to this award, Knowmad has earned recognition as a HubSpot Platinum Partner, an UpCity 2020 National Excellence Award Winner, and a Marcom Platinum Award.