Having a beautiful website is great, but if it doesn't convert prospects to customers, it's useless to your business. It's essential that you create a website that's both visually appealing and effective in driving sales. We're going to walk you through 4 design tips that will help you craft a website with high conversion rates.
---
How To Tell If You Need a Website Redesign
First, it's important to consider whether or not your website needs a redesign. If it's not broken, there's no need to fix it! Here are a few signs that indicate your website is in need of improvement:
Infrequent Updates: Many organizations, especially within the industrial and manufacturing spaces, do not have dedicated marketing teams, so website updates tend to fall to the bottom of everyone's to-do lists. If you find that your organization has fallen behind on performing maintenance, copy, and design changes, it's high time for a website redesign.


Outdated Design: There's so much more to a website than the way it looks. However, research shows that

75 percent

of consumers admit to judging a company's credibility based on the overall design of its website. If your website looks outdated, it's very likely that people will develop a poor opinion of your brand and not give you their business.


Low Traffic and Conversions: Thanks to the analytical capabilities available from most website platforms, you have access to key data points that will inform you on the effectiveness of your company's website. The two most important values to check out are website traffic and conversion rates. If you're not seeing high conversion rates or lots of visitors, let this be your sign that it's time for a website update.
Web Design Factors To Prioritize
A major contributing factor to an organization's success is their online presence and if their website is lacking, this can have detrimental consequences on conversion rates. Your website is often the first point of contact that a customer will have with your company and making a good first impression can mean the difference between gaining a loyal customer and losing a sale. Here are a few design factors to prioritize when creating your new website that converts viewers into clients:
Clear and Unique Selling Proposition
One theme among all high converting websites is a clearly defined, unique selling proposition. There are millions of companies so differentiating your organization from the competition is essential. In addition to creating high-quality products and services that your competitors are not able to replicate, your website needs to communicate why your business is special and why customers should purchase from you. For example, we created a new website for Handling Solutions, Inc. that conveyed one simple, strong message: "Handling Solutions sells efficiency." As soon as a prospect enters their fresh, lively website, this message is displayed in bold letters, along with a brief description of their more than 50 years of experience helping manufacturers streamline their plants. Just as their website does, yours needs to convey your unique selling proposition in order to convert casual shoppers into repeat customers.
Simple Site Navigation
Have you ever visited a website and due to the confusing layout, you were unable to find the information you were looking for? If so, how did you feel at the end of the interaction? We're going to bet that you felt frustrated and irritable. When accessing a company's website, customers are looking for an easy-to-use interface that will enable them to find information about the offerings that are right for them, your company's values, and the process of making a purchase. This is especially true for industrial and manufacturing companies since these businesses tend to have an extensive range of products. To make sure your website is a stress-free breeze to navigate, you should include these elements in the design:
Simplified Menu: Instead of having a website menu with 10-15 options, try featuring a few general ones, such as "Products" and "Our Approach," and having dropdown menus with more specific options.


Search Bar: When a customer is in a rush, they often seek out a search bar function in a company's website. If yours doesn't have one that allows users to search specific terms, you should change this.


Calls to Action: Customers want a simple, easy way to purchase your products and services, so make sure to give it to them! Try including multiple buttons on your website that link to pages where someone can complete a purchase.
Quick Loading Speeds
According to a study from Google, the probability of a person leaving a website increases 32 percent as the load time increases from 1 second to 3 seconds. Slow loading speeds can cause consumers to steer clear and look elsewhere for their products and services. Aside from annoying website visitors, slow load times can negatively impact your ranking on Google, which can lead to decreased prospecting opportunities. All high converting websites feature lightning fast loading times, so if yours is moving at the speed of a snail, it's time to make a change. Here are a couple of steps you can take:
Photo Sizes: While it's fine to have a few statement photos on your website, featuring them throughout can significantly increase your loading times. You should either cut down on the number of large photos featured, or use a WebP, PNG, and JPEG compression plug-in, such as

TinyPNG

.


Purge Your Database: If you've been in business for a long time, it's likely that your database is jam-packed with unused photos and files. Taking a moment to clean out your website's storage can help to increase loading speeds.


Use a CDN: A great way to reduce loading speeds without doing much on your end is by enlisting the help of a CDN, or a Content Delivery Network. A popular service is

StackPath

.
Focus on User Experience
When it comes to your website, the single most important thing to consider is how the user experiences each element. The user experience, or the UX, refers to the set of behaviors that a consumer will display when interacting with a company's website, as well as their overall impression of the website. Having poor UX can result in consumers leaving your page feeling overwhelmed, frustrated, and confused. These types of feelings are not conducive to landing sales, so it's important to craft your online presence to be user-friendly, pleasing to the eye, and comfortable. These characteristics can be achieved by keeping your design as simple and streamlined as possible, choosing the colors and other design elements carefully so as to not overwhelm your viewer, and including a clearly defined path to get in touch with your team. Finding the right balance between simplicity and high-impact content can be tricky, so we recommend enlisting the help of a professional web designer.
Confuses Visitors
Since the birth of the internet in 1983, website design has come a long way. Looking back on the websites that were made around that time, it's shocking to see how different they look. Many lacked a clear direction, had cluttered designs that overwhelmed visitors, and didn't effectively communicate a company's offerings or mission. Over the years, web designers and business owners have become more adept at leading customers through sales funnels and educating them about their individual value propositions. If your website lacks a clear direction, don't fret because we're here to assist. Prior to helping each of our clients build their websites, our team completes a Brand Message Workshop to develop a strategic plan for crafting content and imagery that clearly conveys a unified vision.
A Professional Designer Can Build a Website to Optimize Conversions
Without the right guidance and expert assistance, getting the design of your website right can be near impossible. That's why businesses enlist our help. We've helped countless companies, such as Riteks and NCFI, transform their underperforming websites into lead-generation and conversion machines. For example, we helped Riteks, a leading supplier of industrial chemicals, increase their organic search conversion rate from 0 percent to more than 3 percent. To explore our extensive track record of success in website design and development, click here. Our multifaceted team is skilled in crafting websites and marketing content that deliver powerful results and fantastic ROI.
If you're interested in learning more about our digital marketing services for industrial companies, booking a call with one of our representatives, or requesting a proposal, we're here to help.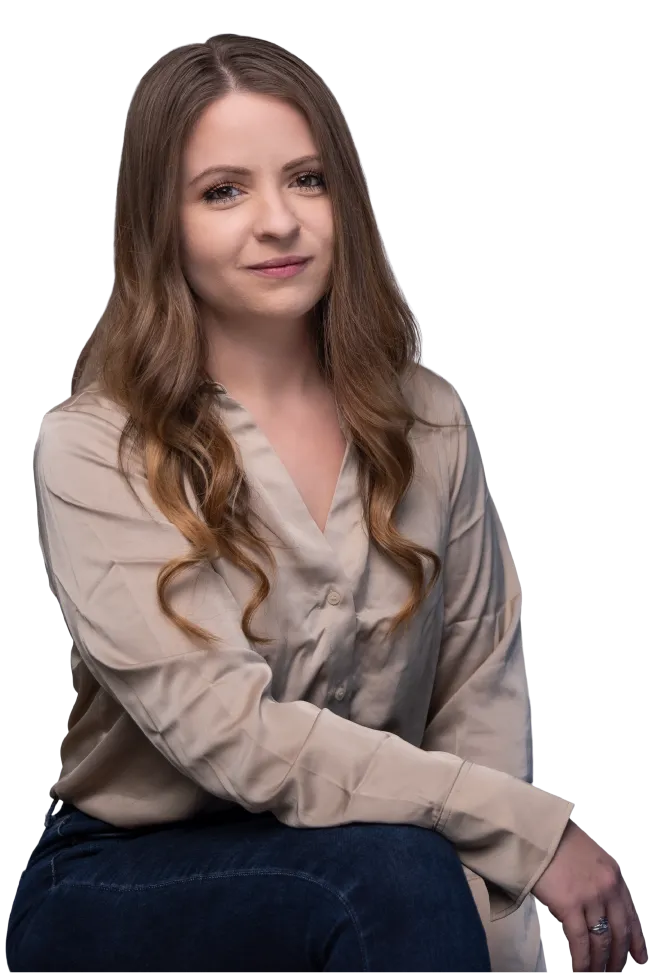 As Lead Designer for Knowmad, Sarah helps our clients bring to life their creative visions and establish a compelling, professional online appearance. She focuses primarily on website design, blending beautiful aesthetics and UX to create memorable online experiences.