A Sales Tale
A sales manager, searching for a new sales rep, interviews a promising candidate. The eager, young prospect dresses well, speaks clearly and confidently, and has earned a reputation of being reliable and showing up when expected. He's even very sociable and exudes a contagious sense of humor.
Since he'll fit in perfectly with the rest of the team, the sales manager hires him on the spot!
Oh, wait. But can he sell?
Nah! Hasn't sold a thing in his life. But he's got everything else going for him. He'll turn out great!
Absurd? Well, before you castigate the sales manager, you might want to look in the mirror first. You wouldn't claim such an epic fail in your hiring process, but how is your website doing?
Is Your Homepage Generating Sales Leads?
Your homepage is one of the most valuable sales tools your business has. Is it built to sell? Or does it just have a pretty face with some helpful information and social icons? If so, it's time to build it right.
The numbers vary, but your homepage can account for one-third to one-half of your website's page views. With that level of viewership, even minor adjustments can greatly improve its success in converting your visitors into sales leads.
When a prospective customer visits your homepage, what is the next step you want them to take? How will you move them forward in your sales process? As you optimize your homepage, keep the tips below in mind. If your homepage needs a tune-up, start with these.
1. Focus On Your Audience
Regardless of your type of business, your purpose is to make your customer successful. Make sure your homepage communicates that clearly. Focus on your ideal customer and what they're looking for. How are you solving their problem? What resources can you offer to help them? The page should be designed just for them.
2. Keep It Clean
Scrap the clutter. There's nothing more annoying than looking at a homepage that looks like a plate of spaghetti. Dozens of images and links scattered throughout the page only confuse the visitor and encourage them to flee! Sure, every department in your company wants their information on the homepage – just say no! Keep it clean and purposeful, focused on the task of selling the next lead generation step.
3. Make It Visual
Striking visuals contribute to your homepage's clean appearance. Use consistent branding in your logo, navigation, copy, and images. Rather than a slideshow, consider displaying a single static photo that best represents the value you bring to your customer. People, rather than objects, are the best subjects of your image and can increase engagement.
4. Use a Call-to-Action
So, here's the piece de resistance. All of this work is in vain unless you're asking for the lead.
Include a call-to-action (CTA). This could be an offer for a free demo, a 30-day trial, a white paper on a topic your customer values. Test a variety of offers, as well as the format of your CTA. Some CTA's are banner graphics that take the visitor to a landing page with more information about the offer. Another CTA type is a simple form that can be submitted directly from the homepage.
The CTA is designed to direct your visitor in what to do next. Nobody wants to be stranded, forced to search for the next move. With a clear and valuable offer, your CTA will assist your visitor in solving her problem.
A Great Example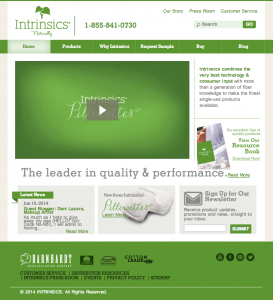 This homepage designed by Knowmad models these tips. The appearance is very clean and aesthetically pleasing. The graphic (currently a video) is changed periodically to highlight a product that appeals to its audience. The primary CTA is an invitation to download a Resource Book. A secondary CTA is the Newsletter sign up form.
Evaluate, Optimize, Repeat
After you've found the most effective format for your homepage, compare it's lead generation results with your old homepage. You should be pleased with the results.
Now that you have a well-dressed, articulate, lead-generating monster of a digital sales rep, congratulate yourself! But not for too long. Get started optimizing the rest of your website!