When it comes to achieving a competitive edge for your manufacturing business, you need more than the right products and attentive customer service: You also need a winning website that will convey your unique value proposition, attract new customers, and fuel your success for years to come. In the past, having a website, in general, was sufficient for attracting business, but times have changed. In 2022, the best manufacturing websites are updated, visually appealing, and easy to navigate. Let's discuss a few signs that your website may need some TLC.
---
Consequences of an Outdated Website
Your website is often the first interaction a potential customer will have with your company, so it's important to put your best foot forward. Due to the fast-moving nature of the industrial and manufacturing industries, many organizations will neglect their websites for weeks, months, or even years, allowing them to fall into disarray and irrelevance. For a website to be effective at converting potential customers into loyal ones, the content and design need to be updated regularly. To understand how detrimental a bad website can be to your company, it's important to look at the data. Here are a few eye-opening statistics:
How to Know if Your Manufacturing Website is Outdated
Consumers are taking notice of your website and having an ineffective, outdated one can cost you customers. Countless studies have shown that a website's design, content, and usability can determine whether or not a customer moves forward with a purchasing decision. So, how do you know if your website is outdated? Here are 5 signs it might need a refresh:
Looks like it is from the 90s
Here's a great example of a website in need of some help: Pmichaud. If your website resembles this one in any way, shape, or form, this is an indicator that yours needs a revamp. While this particular website may seem like an extreme example, it's common for companies in the industrial sector to have outdated websites that seem to be straight out of the 90s. Why? Many industrial companies do not have dedicated marketing teams or they believe their product is too "boring" to market. In reality, every company and product can benefit from a well-designed website.
Not Ranking in Google
While word-of-mouth marketing still has its place in business, a business cannot rely on it entirely. In this digital age, showing up on the first few pages of Google is a significant determinant of your success since it enables your organization to connect with new customers. Your lagging rank on Google boils down to these key elements:
Poor SEO -If your website's content is lacking keywords and links, full of grammatical and spelling mistakes, and not optimized for mobile access, this can impact its ranking on Google. It's important to address your search engine optimization (SEO) strategy when it comes to your website.


Slow Load Times - As previously mentioned, retailers lose

billions of dollars a year

in sales due to slow website load times.

Google found

that ​​the probability of an internet user leaving a webpage increased 32 percent as the load time increased from 1 second to 3 seconds. Not only will this hurt your sales, but it will also cause Google to rank your website lower.


Bad User Experience (UX) - A major factor for your Google ranking is the

user experience (UX) of your website

. The UX is determined by a few measurements, including bounce rate, mobile usability, security, and load times. Each one of these items will impact your rank.
Not Generating Leads
Having a beautiful website isn't enough. In order for your website to generate leads and help you land sales, it needs to have proper calls-to-action (CTAs) that will entice visitors to become customers. While it may seem like an insignificant element within your marketing campaign, it's actually the most important part. If you don't provide customers a simple, easy, and quick way to get your product or receive more information, many will abandon ship and buy from your competitors. Here are a few effective CTAs to incorporate into your manufacturing website design:
Buy Now
Talk to a Team Member
Contact Us Today
Buy Today and Save Big
Learn More
Get Yours Today
Request a Proposal
Has a High Bounce Rate
According to a study, it takes around 50 milliseconds (0.05 seconds) for someone to form an opinion about a website and determine whether they want to stay or leave. That means you have 50 milliseconds to convince a potential customer that your website is worth staying on. In order to lower your "bounce rate," which refers to the percentage of people who visit a website and then leave without accessing another page, there are a few items to address:
Cluttered Design - Less it more when it comes to website design. Instead of overloading the screen with countless colors, graphics, blocks of text, it's better to keep things simple. It's a good rule to stick to one bold item per page so your visitors don't become overwhelmed.


Slow Loading Times - It's very common for people to exit websites that have slow loading times. If you find your website is taking more than a few seconds to load, consider removing a few graphics from the pages. This can speed up the loading process.


Too Much Text - In a world where many people are used to the 280 character limits on Twitter, it's important to keep the text on your website short and to the point. Make sure to avoid long paragraphs and break up text with bullet points.
Confuses Visitors
Since the birth of the internet in 1983, website design has come a long way. Looking back on the websites that were made around that time, it's shocking to see how different they look. Many lacked a clear direction, had cluttered designs that overwhelmed visitors, and didn't effectively communicate a company's offerings or mission. Over the years, web designers and business owners have become more adept at leading customers through sales funnels and educating them about their individual value propositions. If your website lacks a clear direction, don't fret because we're here to assist. Prior to helping each of our clients build their websites, our team completes a Brand Message Workshop to develop a strategic plan for crafting content and imagery that clearly conveys a unified vision.
The Best Manufacturing Websites Marry Data and Design to Accomplish Marketing Goals
In this digital age, your website is your number one marketing tool to reach new customers, promote your offerings, boost your sales, and build your credibility within the industry. In order for it to be effective, it needs to combine aesthetically pleasing elements with data that fuels sales. Essentially, your website should have both beauty and brains. Our team is comprised of expert designers, copywriters, strategists, and technical marketers who have a proven track record of crafting websites that are as beautiful as they are powerful.
We helped Riteks, a leading manufacturer of industrial chemical solutions, transform their outdated website into an interactive digital experience that grew their profits and organic search conversion rate. To gain a thorough understanding of their needs, our team met with Riteks founder Edward Boss and his team to learn more about their company, customers, and business goals. This in-depth research empowered our team to create a website that, on the front-end, attracted customers and conveyed Ritek's unique value, and on the back-end, delivered significant results through SEO and content creation. Ed has recently commented, "It's already a success, and the investment has been worth it."
Get Started
If you're interested in taking your manufacturing website design and content to the next level, learn more about our digital marketing for industrial companies or take a look at our case studies. You can also click here to book a call or request a proposal with additional information. We're here to help your organization succeed.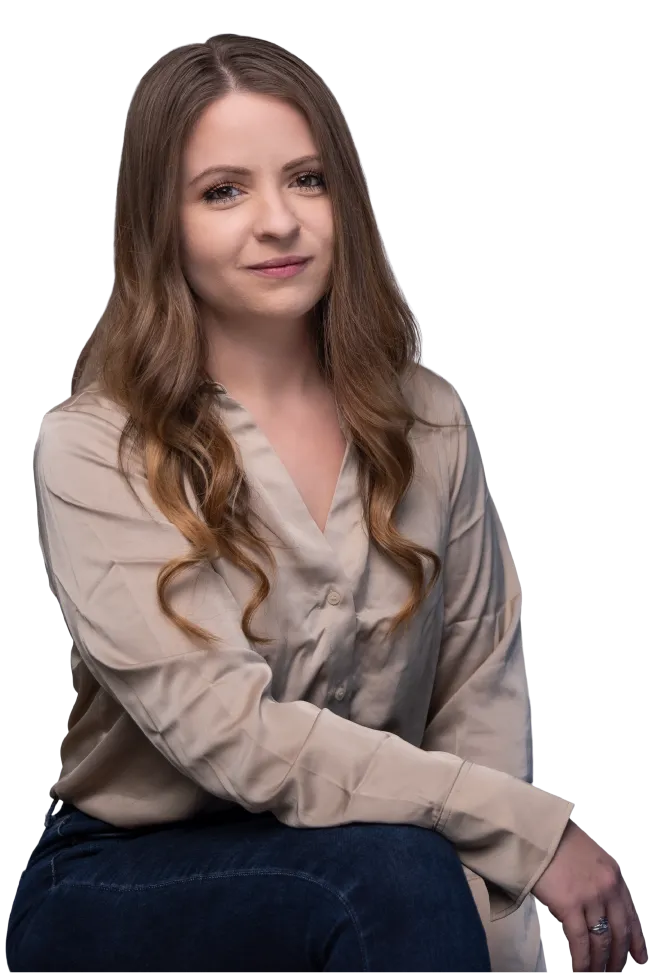 As Lead Designer for Knowmad, Sarah helps our clients bring to life their creative visions and establish a compelling, professional online appearance. She focuses primarily on website design, blending beautiful aesthetics and UX to create memorable online experiences.