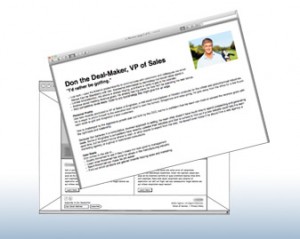 Your web design is the first impression visitors have of your site. But behind the scenes of even the most intricately designed high-tech site is a marketing strategy based on knowing your audience and speaking directly to them – no mean feat when you consider the untold millions navigating the Internet every day.
Still, you can optimize your web design through five basic tactics.
1: Persona-fy your audience
That most basic of business advice –know your customer – has even more resonance in the digital age. Sure, it may be exciting to expose your message to 20 million people, but your true target is that one-half of 1 percent of them who will most likely respond to your offerings. Speaking directly to those 20,000 promising leads is the job of your content. Creating personas, or detailed demographic profiles of your key customers, and then creating a web design that appeals to them, can go a long way toward helping you tailor your content.
2: Get social
A 2011 survey of small-business owners revealed a surprising disconnect: While a combined 57 percent declared that social media either wasn't important to their business or that they didn't know enough about it to form an opinion, 50 percent called word-of-mouth a tactic their business couldn't do without. The disconnect? Today's word-of-mouth comes through social media..
Blogs, videos, images, reports – they all catch attention. When you keep your content engaging and informational as opposed to sales-y, and tied closely your audience's interests or concerns, your site stands a better chance of gaining friends and followers. Facebook, Twitter, LinkedIn – there's a good chance that whatever product or service you offer, there's a community that's interested in it. And content titles like "Three things you never knew about…" or "The top 10 ways to …" deliver value and pique interest.
3: Design with the user in mind
Web design is so important to your strategy, and when it works best its value is invisible to the audience. In other words, if your users can, on their first visit, navigate smoothly and find exactly what they want with a minimum of thought to the matter – then your web design is doing its job. A professional web designer is one who will work closely with you to determine a design with your users' tastes in mind.
4: Point the way with CTA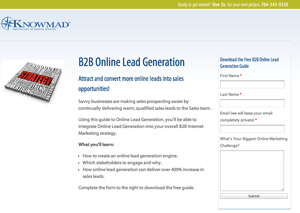 The call to action (CTA) drives visitors to the next step in learning about your product or service. As a web design element, the CTA typically appears as a hyperlink. By clicking through, visitors are expecting some kind of payoff ; if it's a good enough one, like an exclusive whitepaper, they may agree to exchange contact information for it. Keep the momentum up while visitors are navigating around your site by positioning a CTA on every page; keeping the CTA recognizable is key, but varying its position and message will spice up the experience.
Hint: "Click Here" is so 1990s; in fact, marketing experts advise against using it. The term doesn't tell customers why they should click there. So instead, try more action-packed or benefit-oriented CTAs: Demo it now. Download a free report. Amaze your customers.
5: Make an offer they can't refuse
Ideally, you've already identified your audience and created unique content that addresses their interests. Now, close the marketing loop with valuable offers for your qualified leads. Your web design strategy can include landing pages that encourage more direct contact in exchange for upgrades, free samples, special new-customer pricing, or a gift certificate.
Have you used these tactics for your website? Share your thoughts and experience by leaving a comment.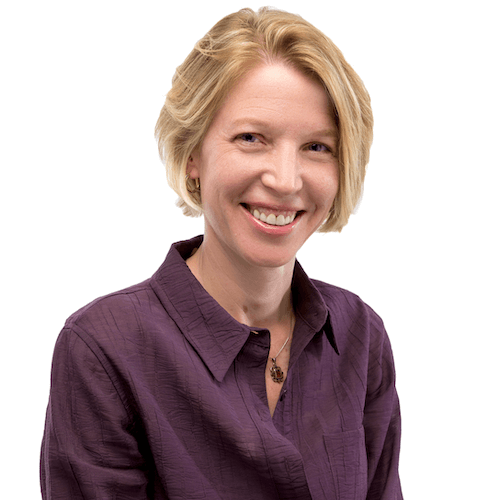 Diona is a managing partner at Knowmad. Her areas of expertise include digital marketing strategy, project management, brand management, search engine optimization (SEO), pay per click advertising, inbound marketing, content marketing, conversion rate optimization, social media marketing and website design.