In addition to being visually appealing, user-friendly, and informational, a company website needs to drive consumers to action. For it to be considered successful, your site must deliver measurable results. This is where conversion rate optimization, which is often shortened to CRO, comes in. In this all-in-one guide, we'll discuss conversion rate optimization best practices and strategies.
---
The Basics of CRO
CRO is defined as the process of increasing your conversion rate, which is the likelihood that a user will perform the desired action on your website. Whether your desired action is for customers to place an online order, submit their contact information, sign up for your newsletter, or click a specific link, your website must provide a clear path for people to support and/or engage with your organization.
The formula to determine your conversion rate is calculated by taking the total conversions, which is the number of times a person takes the desired action on your website, and dividing it by the total number of website visitors. Then, you should multiply the result by 100 in order to get a percentage. Generally speaking, a good conversion rate is between 2 and 5 percent, but higher is always better.
What a Conversion Rate Indicates
Many business owners wonder what their conversion rates indicate about their websites. Beyond the obvious that a high conversion rate equates to an effective website and a low conversion rate equates to an ineffective one, here's an explanation of what your rate could show.
Quality of Graphic Design
A significant element of your website is the design. According to research from Top Design Firms, 50 percent of consumers believe that website design is important to a company's overall brand. In addition, GoodFirms found that 38.5 percent of designers believe that outdated design is a top reason why visitors leave a website. In other words, your design choices matter and if you're looking to land sales, it's important to get them right. Here are a few tips.
Don't overwhelm users with colors: The best practice is to choose one primary brand color and pair it with one or two complementary colors. Anything more than this will overwhelm viewers and cause them to click out of your website.


Do regular updates: According to Forbes, the typical lifespan for a website is around

2 years and 7 months

. So, if you haven't done a website refresh in over a decade, it's high time to get started! Consumers expect businesses to have up-to-date, modern websites.
Choose high-quality images and videos:

If you've ever entered a website and been confronted with low-quality, pixelated graphics, you understand how unprofessional it looks. Make sure not to make the same mistakes as other businesses. You can

check out iStock

for excellent visuals that will convey your trustworthiness.
Effectiveness of CTAs
The best CTAs are clear, concise, and convey a sense of urgency. They guide each prospect to your desired outcome, whether that be placing an order or contacting your team for more information. Ineffective ones, on the other hand, are confusing, unclear, and lack urgency. They don't entice consumers and they don't convert prospects into customers. If your website is lacking good CTAs, try incorporating one or more of these into your site design.
Get Started
Place an Order
Contact Our Team
Add to Cart
Subscribe to Our Newsletter
Get Our Limited Time Offer
Conversion Rate Optimization Best Practices
Let's imagine that your website is a staircase leading toward your end goal of acquiring a new customer. Once an online user enters your website, it needs to persuade them that your company is trustworthy, your offerings are of the utmost quality, and that they should place an order. If one step in this process is inadequate, your potential customer will not continue along the staircase and you'll lose a sale.
To ensure that your business doesn't miss out on the opportunity to succeed, it's essential to craft your website in a manner that leads each and every customer through a very specific path. You'll need to determine the right strategy for your organization. Here are a few effective strategies to consider utilizing.
Focus on Design
By stepping up your website's design, you can improve the overall user experience and increase your conversion rates.
Color is powerful, so it's important to choose each shade carefully, especially when it comes to your CTAs. Your CTAs should stand out from your website and entice buyers, so make sure to select a color that pops.


If your company's message is being overwhelmed by excessive graphics and text, this will detract from your ability to close sales. If your website is crowded, eliminate everything that isn't vital to your mission.


If your CTAs are relegated to the bottom of your website, it's likely that customers will miss them. Instead, try moving them to your main menu or header.
Use a Custom Lead Form
Even if your CTAs are great and they lead customers to the right place, it's important to have the right lead submission form in place. If the design isn't pleasing to the eye or there are a million sections to fill out, it can turn prospects away and cause you to lose out on a sale. To improve your conversion rate on form submissions, try using a service like Typeform that will walk you through creating the perfect form, both in terms of content and design.
Conversion Rate Optimization Tools
Here are a couple of our favorite CRO tools. Each one offers distinct benefits and many of them can be used in conjunction with each other.
Google Analytics
If your business isn't already utilizing Google Analytics, we highly recommend changing that. This mostly free platform, minus a few of the more advanced features that require a monthly fee to use, enables you to collect, analyze, and optimize in-depth data from your website visitors. With their wide selection of tools, you can:
Calculate your conversion rates
Gain an understanding of how your CTAs are performing
Determine which web pages your customers respond to best
Identify areas of improvement for your website
Compare your conversion rates for paid advertisements, social media, and search engine traffic
Figure out which countries/markets have the best conversion rates
Hotjar
Utilized by 900,000 websites across more than 180 countries, Hotjar is a favorite tool for businesses looking to better understand their customers. Through the use of heatmaps, which are visualizations that show where and how users interact with a website, live screen recordings from actual customers, and real-time suggestion boxes, Hotjar will provide your business with a thorough understanding of your prospects and how to better target them. You'll gain deeper insight into their unique behavior and what tactics to use in order to drive them to action.
Customer Satisfaction Surveys
While customer satisfaction surveys have been around forever, that doesn't mean they're an outdated form of data collection. They're still effective in gauging how well your website is performing among prospective customers. If you're interested in implementing a customer survey for anyone accessing your website, make sure to include these questions:
On a scale of 1 to 10, how much do you like our website's design?
Based on our website alone, how likely are you to recommend our company on a scale of 1 to 10?
What would you improve about our website?
On a scale of 1 to 10, how easy was our website to navigate?
Get Help From a Conversation Rate Optimization Agency
As a conversion rate optimization agency, we're highly skilled in getting our clients the measurable results they deserve. However, you don't just need to take our word for it! We have a proven track record of helping businesses perfect their websites in order to get more conversions and generate qualified leads. Time after time, our team delivers high-impact results by combining CRO and SEO. When used alone, SEO can get you traffic, but in order to drive conversions, it's necessary to incorporate effective CRO into your digital strategy. If you're ready to experience the magic for yourself, contact us today.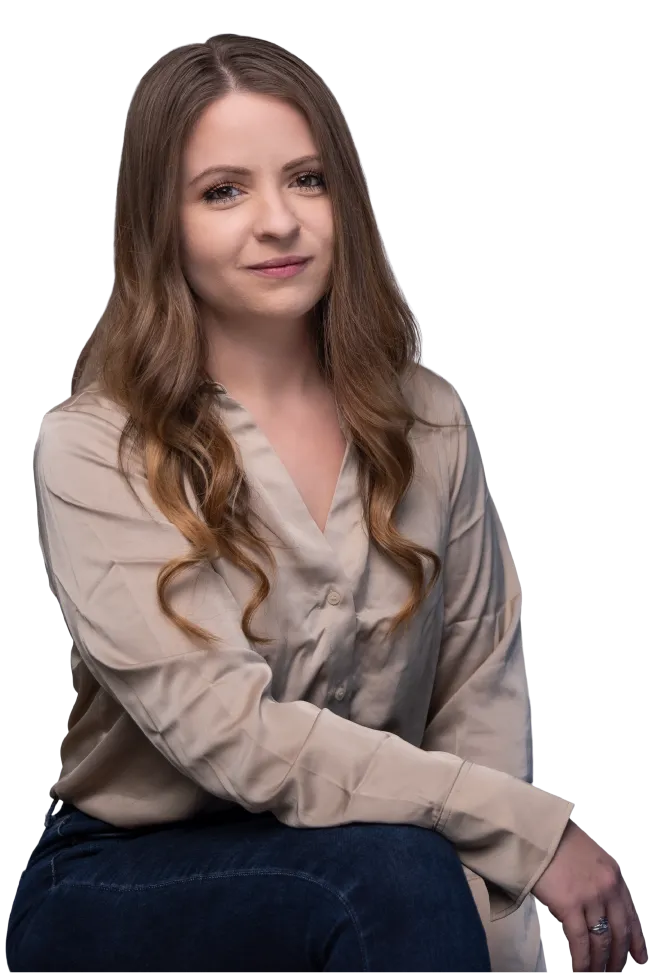 As Lead Designer for Knowmad, Sarah helps our clients bring to life their creative visions and establish a compelling, professional online appearance. She focuses primarily on website design, blending beautiful aesthetics and UX to create memorable online experiences.