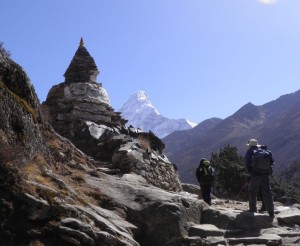 Having recently returned from a trekking expedition to Everest Base Camp, I've found myself noticing the similarities between an expedition and an online marketing campaign. In both cases, you are most likely to succeed when you set a destination, make a plan, create momentum and continually adapt to the conditions that arise during the journey. But the first step is making the decision to take a risk...
Discovery
In the Fall of 2011, my wife & I were invited by a Chilean climbing expedition to join their trekking group for the journey to Everest Base Camp in the Spring. We trained for six months before the trip but, for me, the plans started hatching long ago when I was 10 years old. My English teacher at that time gave the class an assignment that involved reading a biography and creating a diorama. I selected a book about Sir Edmund Hillary and the first successful summit of Mt Everest. Hillary inspired me with his sense of adventure, courage and endurance. Since grade school, I have dreamed of seeing the Himalayas!
Like a successful businessman, Hillary had the vision, patience and conviction to see himself through to the completion of his goal. Marketers and entrepreneurs looking to be successful in today's marketplace realize the shift that has occurred. Yet, how do you act on it? Do you have a vision for how Internet Marketing will support the growth of your business? Are you prepared to wait as long as 3-6 months before realizing results? Do you have the conviction to get the support of the management, sales and marketing teams?
Planning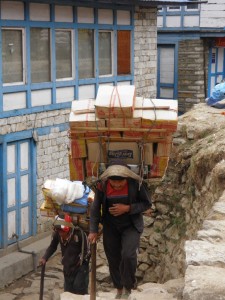 Now a trip to Everest Base Camp does not happen without some serious planning. It was our long-term relationship and complete trust in the experienced guides that organized the expedition which made up our minds to invest the time and money to make this journey. In Nepal, there was a ground team that was handling the organization of accommodations, gear, transportation, food, etc. Finally, there were the Sherpas who supported us on the trek and were hand-selected based on a 20+ year relationship.
When it comes to creating & planning your Online Marketing Strategy, it is important to surround yourself with trusted partners and guides. Like the expedition organizers, the management team for the company must be involved at the outset to ensure that the goals of the company are accurately reflected in the plan. The Sales & Marketing plans must also be integrated in order to get the support needed from these departments. With good listening and proper orchestration, the Online Marketing Strategy will become a trusted map for reaching your destination.
Execution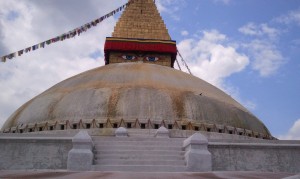 Kathmandu is as exotic as it sounds. From congested roads and dirty sidewalks to beautiful gardens and fantastic temples, it is a strange place to a Westerner. And yet, like the song, something about it beckons us. After a day of sight-seeing, breathing the dusty air and being accosted by street vendors, we were ready to get on with the reason we came.
In Nepal, you learn to have patience. We arrived at the airport at 6am and waited for our flight. There were no flight schedules posted; you left when your plane arrived. This lesson in patience continued throughout our time in Nepal – during the 6-8 hours of daily hiking, waiting for the group or making our way through traffic in Kathmandu.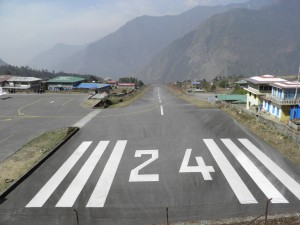 The flight to Lukla was short; so was the runway. As soon as we landed, we began our trek which took 9 days to reach Everest Base Camp and 4 days to return. The trek went from sunny days in shorts and t-shirt to snowy, windy days with low visibility. The weather in the mountains changes quickly so we often went through a series of conditions between breakfast, lunch and dinner.
We encountered difficulties along the way such as altitude sickness, headaches, sickness (from colds to diarrhea), and twisted ankles. With the experience of our guides and Sherpas, nearly everyone in our party successfully reached Everest Base Camp. Most importantly, everyone returned safely.
With an Online Marketing plan in place, the focus turns to tactical execution. This phase is where ideas hit reality. It is important to act deliberately, move slowly, review progress and adjust to the conditions. It is also easy to fall behind during this phase due to unexpected work, sickness, or fatigue. Having a support team will ensure that your goal will be achieved.
Summary
The Everest Base Camp expedition was a life-changing experience. It was both mentally and physically challenging as we went from the excitement of making the decision and beginning our preparations to the combination of exhilaration and exhaustion at reaching base camp at 17,600'. The 80-mile journey took two weeks, ascended over 9,000' and allowed plenty of time for reflection.
Likewise, an Internet Marketing initiative often starts with an ambitious goal that gets everyone on-board and revved up to make an impact. Then the work begins; other initiatives come up; the daily grind and urgent issues force marketing into the background. With a clear vision, a team to support you on the way and a conviction to succeed, you will find the exhilaration of seeing your efforts pay off and have the time to begin reflecting on the lessons learned along the path.
Our Work
At Knowmad, we help clients explore new territory. As an expert guide familiar with the online marketing terrain, we collaborate with you to create a road map for the on-going success of your Internet marketing campaigns. In the same way that we yearn to explore the world we live in, our team at Knowmad strives to help clients reach new heights through a combination of strategy, technology and expertise.
What have you learned from your journeys, literal or figurative? Add a comment!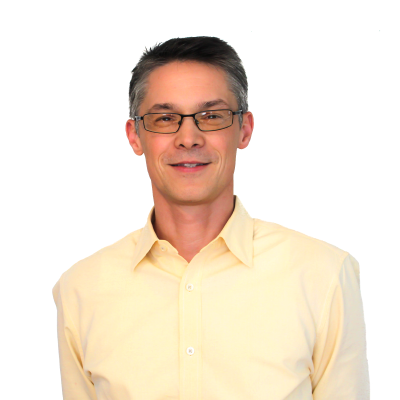 William McKee is a founding partner of Knowmad. As a Web architect & Internet business consultant, he is passionate about applying business knowledge & technical expertise to deliver solutions that advance business online. With over 15 years of Web experience, his current work involves designing strategies and creating processes to help business attract, engage and convert website visitors into customers.