What purpose does your website serve and is it currently accomplishing your company's goals? Let's dive into the importance of having a clearly defined vision and objectives for your company's website.
---
Define the Purpose of Your Website
Depending on your company's unique needs, your website could serve a number of purposes. For some business owners, their main goal is to drive online sales and increase their bottom line. For others, their website acts as a tool for connecting with potential customers, creating genuine connections, and generating engagement for their brand. We've identified a few website goals common among many of our clients:
Corporate Branding: Ensures that your online presence properly portrays the value of your offerings, capabilities, employees, and company as a whole.


Sales Support: Gives your sales team tools to profile, identify, and engage with prospective customers regarding your selection of products and/or services.


Customer Service: Gives your customers the ability to gain additional value from your company via your online content (such as articles, instruction manuals, and infographics) and self-help services.


E-commerce: Enables you to sell your products and/or services directly from your website. Over the past few years, e-commerce has grown significantly in popularity and many businesses are prioritizing online sales.

Online Community: Provides your customers with opportunities to communicate with your employees, ask questions, and get help whenever needed.
If you're in the school of thought that your company just needs to have a website because everyone else in your industry does, it's time to rethink that. This line of thinking won't result in an effective website or help your business grow. When deciding to build a website of your own, it's essential to have a clear understanding of what your website objectives are, how you're going to achieve them, and how you'll measure your success. According to a survey of our LinkedIn followers, we found that business professionals are split on what the purpose of a website is.
Generate Leads: 30 percent of respondents
Sell Products or Services: 15 percent of respondents
Educate Readers: 25 percent of respondents
Create a Positive Brand Image: 30 percent of respondents
As you can see, every business views its website in a different way. Whatever their goals are, this will impact the design, features, implementation, and marketing aspects of their site. For example, if your objective is to sell your products or services online, it's important to have a user-friendly, secure payment acceptance solution built into your website. This will ensure that each of your customers can place their orders easily and with confidence that their financial information will remain safe.
Create Website Goals and Objectives
Whether your organization is planning to create an entirely new website or revamp an existing one, we recommend focusing all of your efforts on your overarching objectives. Whether you're interested in generating leads, expanding your online sales, or establishing connections with customers, it's vital that you craft each website element, from copy to design, to suit this goal. You should also align your digital marketing strategy to these same goals so that it will directly contribute to your mission.
In addition to defining your objectives, you'll need to determine the best way to measure your success. It's all fine and dandy to have goals, but if they're not measurable, you'll never know whether or not your organization is moving in the right direction. One popular and widely available tool for measuring the success of your website is Google Analytics. This web analytics platform, available in both a free and enterprise version, helps you gather in-depth information on:
The behavior of your customers on your website
Which products and/or services are selling the best
The effectiveness of your call-to-actions (CTAs)
How well each webpage is performing
Your conversion rate according to specific markets or regions
The performance of your marketing and advertising efforts
After collecting the data you're interested in, it offers a wide variety of visualization options that will turn the data from simple numbers into an insightful assessment of your website's performance. You can create easy-to-understand graphs displaying performance by day, week, month, year, or period of years. In addition, you can customize your reporting dashboard and set specific objectives to track. It's amazing how much raw data regarding visitor traffic and user interactions you can collect by signing up for Google Analytics and letting it run in the background.
Learn About Our Website Design and Optimization Services
We have an extensive track record of building websites that possess both beauty and brains. Our team is able to marry data and design in order to achieve any and all of your company's marketing goals. Each website is expertly crafted to meet the specific design needs of our clients, and incorporated with conversion rate optimization (CRO), search engine optimization (SEO), engaging and informative content, and lead-generation forms. We help marketers get the leads they need to grow, make more money, generate a positive brand image, and educate their readers with original thought leadership content.
During the web design process, you'll be assigned an SEO specialist and a digital marketing strategist that will provide direction to our graphic designers and web developers. Their guidance will help your design and development team create a website that not only looks great but functions great, too. We'll help you get found on Google and convert this traffic into qualified leads, ultimately leading to increased conversions and a wider customer base. In addition to creating your stunning, highly effective website, we'll also help you create engaging content that will further your brand, attract new customers, and establish your company as a leader in your industry.
Build a High-Impact Website
Are you ready to learn more about our high-impact web design and digital marketing services? Reach out today and let's schedule a meeting to discuss how we can help your business grow. When you partner with Knowmad, you can rest assured knowing that our team is behind you 100 percent. Our extensive arsenal of capabilities is at your disposal and we'll help you achieve the results you deserve.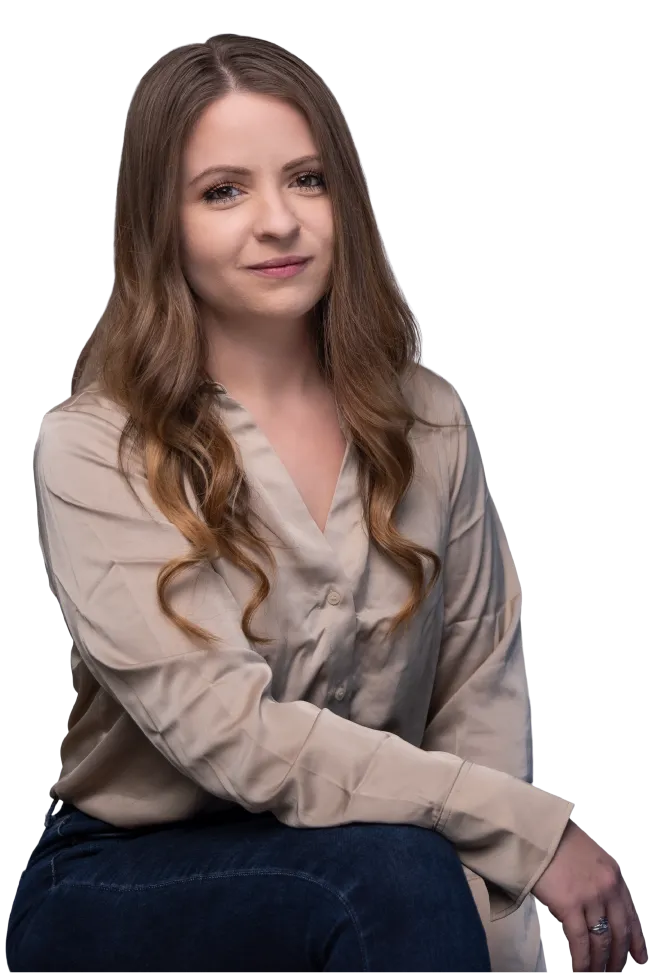 As Lead Designer for Knowmad, Sarah helps our clients bring to life their creative visions and establish a compelling, professional online appearance. She focuses primarily on website design, blending beautiful aesthetics and UX to create memorable online experiences.