Results



The Company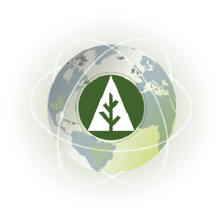 Forest2Market is a technology company that provides business intelligence about forestry data to timber companies, pulp & paper companies, wood products companies, and bioenergy companies.
Their interactive platform, SilvaStat360, is unlike any other in their industry, and it enables business leaders to make better decisions based on real, actual supply and demand.
Due to the complex nature of the various industries they serve, communicating what the company does in a simple way was a big hurdle.
The Challenge
The client approached us because, while their blog was very successful in generating traffic to the website, that traffic was not translating into revenue dollars.
Even in cases where blog readers navigated to services or products pages, they weren't turning into qualified leads for the sales team.
The main reason why the traffic wasn't converting was that the website simply did not communicate clearly with the company's ideal customers.
The navigation was confusing.

The value propositions of the company weren't clear.

Questions a buyer might have were not answered on the site.

The content was text heavy and difficult to read.

The design gave the impression that they were a forestry company, not a data company.
We recognized that in order to capitalize on the client's high volume of blog traffic and generate better leads for their sales team, the website needed to be restructured, rewritten, and redesigned to better suit its audiences' needs.
Due to the company's evolving business model and global growth plan, Forest2Market's marketing team also wanted the company's website to demonstrate the brand's expertise and global reach, with a large emphasis on its subscription-based analytics platform.

View Forest2Market's Website »
The Solution
Audience
Like many complex companies, Forest2Market was so close to what they do that they could not communicate in a simple and clear way with their audience. We knew that, if we were having a difficult time understanding the website, their customers likely were, as well.
The first piece of the puzzle was to get crystal clear on what they do and who they serve. To achieve this, we divided our Discovery Process into three separate meetings, pulling their leadership team, sales team, and marketing team into the discussion.
A clearer understanding of their audiences and what they do allowed us to do 3 things for their website that would serve to monetize their blog traffic:

Restructure
Before, the site navigation appeared more like a brochure of details about Forest2Market. It was a basic categorization of content and didn't speak directly to any of their 4 main audiences, nor did it convey what they do or why they matter clearly.
We knew that developing a compelling and easy-to-use navigation was possibly the most important part of the project, but it also proved to be the most difficult part. Making the website clear and easy-to-use for 4 vastly different (and complex) audiences was not an easy task.
Our discovery sessions with the company's different teams gave us the insight we needed to structure the site in a way that made the user's experience more memorable and easy-to-use.
To make the new website a more effective sales tool, we also made the company's interactive subscription platform, a key aspect of their business model, front and center on the navigation and placed prominently on the home page.
Now, with a narrative-based navigation that communicates "what they do", "why they matter", and "who it's for", along with more attention on their core offer, Forest2Market's website is built to sell, and not just to inform.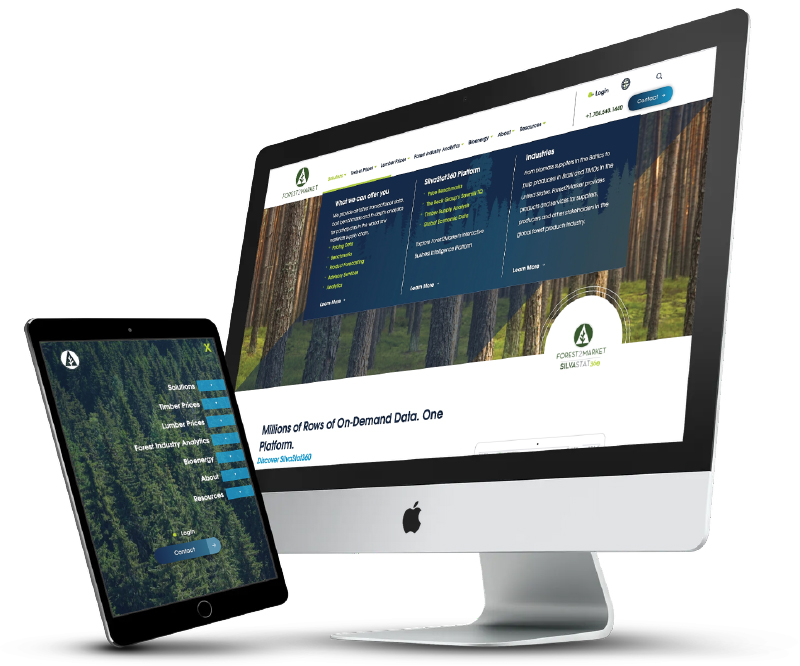 Rewrite
After our discovery sessions with the client, we also realized that they are a technology company that provides data about wood and fiber supply chains, yet their current website positioned them more as a forestry company.
Along with a clearer site navigation, we knew that the words on the pages must also answer the three questions:
What do they do?

Who is it for?

Why does it matter?

If I'm interested, what is the next step?
As Forest2Market helped us better understand what they do and who they serve, we helped them write clearer, succinct copy for their website that resonates deeply with their audience.
Now, Forest2Market's website copy focuses on the data services they provide, which helps interested buyers quickly understand what the company does, how they solve client problems, and how to get started.
Redesign
Before the redesign, Forest2Market's website was mainly green and white with a few images of trees and forests throughout the site. Most pages also consisted of large blocks of copy, which made the content difficult to process.
The website seemed to give the impression that it was a forestry company, rather than a technology company.
So, to freshen up the brand's image and give the correct impression about what the company actually does, we pulled in new illustrations and added more colors, while including more data imagery from it's interactive dashboard core offer. And in introducing more succinct copy and new visual elements, we were able to create space on the site and give it a more digestible visual appeal.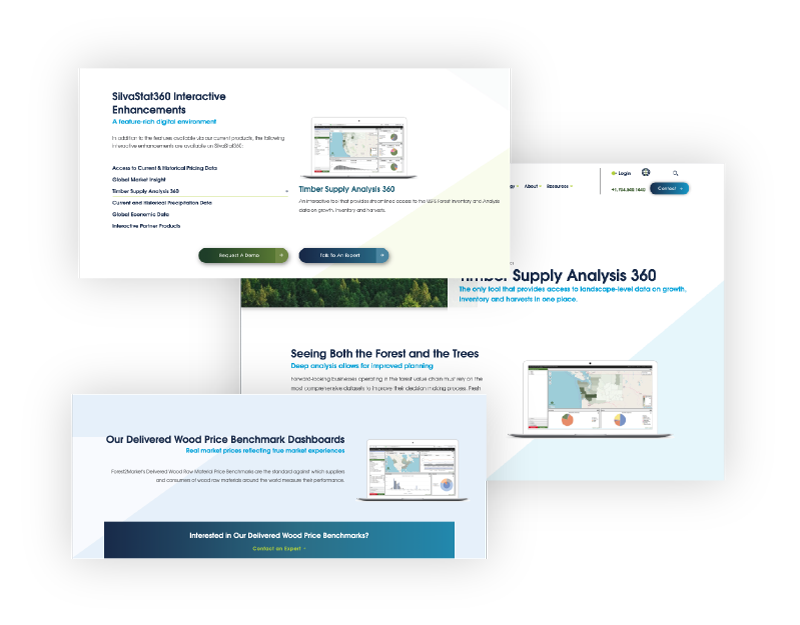 With a fresh look, Forest2Market now has a polished site that reflects the modern approach it brings to the wood and fiber supply chain. Now, when browsers visit Forest2Market's website, they are met with visually appealing pages that invite them to keep scrolling.
Their Success
The post-project metrics for the website show that our work was effective in achieving what we set out to accomplish. Site visitors from the blog started to move around the site significantly more, which resulted in double the amount of form submissions per month.
Landing Page Traffic
By focusing on content that supported sales efforts, traffic to high-value landing pages grew after the redesign, increasing the traffic to pages designed specifically for their target audience.

Before the redesign: Average 29 pageviews per month for key products and services.


After the redesign: Average 310 pageviews per month for key products and services.
Submissions
Building the site within HubSpot and upgrading the company's HubSpot subscription to Marketing Hub Enterprise gave the web team full control over planning the calls-to-action (CTAs). After the site launched, the internal marketing team monitored submissions and continued to use CTAs within new content to keep the momentum going.

After the new design, website form submissions doubled. This new monthly lead volume was observed for the next five months, indicating the work was a success!
Conclusion
"We thank Knowmad for their expertise in helping us to create something we will all be proud of for years to come. I believe the new website will equip visitors with a much better understanding of our business, technical and analytical capabilities, and solutions for the diverse members of the global forest products industry."

--Pete Stewart, Forest2Market's President and CEO
Now that Forest2Market's site visitors have a clearer understanding of the business, their capabilities, and solutions, they aren't simply generating more leads for the sales team, they are getting more high-value leads. By communicating what they do clearly and presenting it well, they are meeting and engaging the needs of the high-value visitors landing on their site.
Knowmad's mission is to help businesses generate more sales opportunities online. Our work on this project shows that clear messaging, a narrow focus, and a strong visual appearance, is exactly what Forest2Market needed to get more online opportunities and reach new heights.