Company
A small, family owned business solving the pest problems of Charlotte, NC and surrounding areas.
Challenge
Known for great service, this pest control company had existing website traffic, but wanted to increase the lead flow & conversion rate for their top service, Bed Bug Treatment, using Internet Marketing.
Solution
In addition to a website redesign and implementing a local search strategy, Knowmad suggested that the company run a paid advertising campaign centered around their Bed Bug Treatment service. Since LSEO is generally a slower play, taking a couple months to really bolster your online search presence, a paid advertising campaign using Google Adwords (now called Google Ads) was used to help get the company to the top of the search results page for their targeted, bed bug-related keywords.
Results
We started this endeavor in mid-January 2018. After listening to the client talk about what sets their Bed Bug Service apart from the competition, our Adwords expert went to work and created an Adwords campaign focused solely on the client's Bed Bug Treatment service.
Initially, to keep costs low, we cloned the existing Bed Bug service page and tweaked it by adding a conversion point (a form) and a call-to-action. The campaign went live on Jan. 29, 2018. After 3 weeks of lackluster results (0 form conversions & only 1 phone call), despite having a high amount of clicks & impressions on the ads, we began to wonder where is the disconnect? Why are so many people interested in this ad, but yet nobody is taking an action? After all, if you have a bed bug infestation in your living space, getting rid of them has to be a top-priority in your mind, right?
After diving into the data, we found that over the last 3 weeks that the ads had been running, over 90% of the traffic coming in from the ads were coming in via mobile device.
We can't emphasize enough how important this discovery was to the campaign…. wait, maybe we can:
OVER 90% OF THEIR TRAFFIC WAS COMING FROM MOBILE DEVICES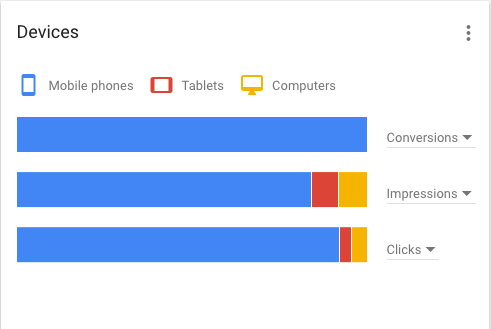 Once this insight was brought to light, we made a change to a more mobile-friendly landing page using Unbounce and we immediately noticed a difference (and so did the client's sales team!).
The new, mobile-friendly landing page went live on February 23. Two days later, on the 25th, the company received their first form submission.
Since the company was new to adwords, we had a limited budget and only ran the campaign for six weeks, Jan. 29-March 12 (43 days).
In the following three weeks that the campaign ran with the new landing page, the campaign received 4 form submissions, all from mobile devices, and tracked an additional 3 calls, which their sales manager was able to listen to thanks to our call tracking software. All 8 leads had an immediate need to get their living quarters un-infested from Bed Bugs.
By the time the PPC trial had run its course, the campaign had received 310 clicks on their ads, meaning 310 additional people came to their website that they didn't have before, garnered more than 6,800 impressions from their ads, which is a 4.52% CTR (more than 2x the industry average, and was paying just $3.87 per click.
But wait… there's more!
In the following months since deciding to pause their paid ads campaign, the company noticed that their lead flow for their Bed Bug service had begun to dip, so for the beginning of their busy season we decided to fire-up their PPC campaign again.
Round 2 ran for about the same amount of time, May 20 - June 30 (41 days). This time, since we knew from the previous experience that capturing mobile traffic was important, we were able to get traction immediately, with the first form submission being just 2 days after we launched the campaign again.
Having a mobile-friendly landing page was extremely important and the results showed it.
In the same amount of run-time and same budget, the campaign received 13 total conversions. 8 via form submissions & 5 via phone calls.
In addition to the conversion totals increasing, they received an additional 43 impressions, 18 additional clicks on their ads over the previous campaign, increased their CTR from 4.52% to 4.75% AND dropped their average CPC (cost-per-click) from $3.87 down to $3 flat.
Do you have a service that you'd like to increase your lead flow for? Think PPC might be the way to achieve your goals? Let's talk! Fill out the form to get in touch with us and we'll connect with you in the next 24-48 business hours!