Manufacturer improves lead volume from website by 50% after a redesign project that included SEO in the planning & development.
Challenge
As the leader in the manufacturing of spray, OEM, and flexible polyurethane foam, NCFI has a long history of delivering high-quality products. When we first met, NCFI was faced with a web presence that no longer supported its marketing plan.
Multiple brand websites made it difficult for the company to rank in search results and required a lot of work from various groups within the business. These different sites overwhelmed and confused visitors. As a result, the company leadership defined a need to refocus its brand and realign its marketing strategy.
Solution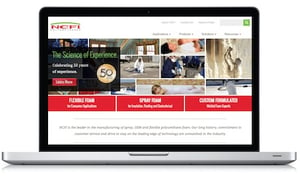 Working together, the teams at Knowmad and NCFI considered how the new website could support its business plan. Opportunities included improving brand perception, generating more traffic to the website, and capturing sales leads.
Knowmad then created a plan to develop a single website to serve as the definitive source of company and product information. Because of the many varied website users, buyer personas were created to aid the design process.
Based on the desire to attract more search engine traffic, we decided to optimize the website during the build process. Keyword research was conducted and SEO was incorporated into each design decision - from website structure to copywriting.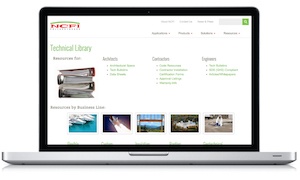 Another goal of the client was to support lead generation via the website. Incorporating this need, the website was designed to be an engaging buyer resource with clear calls-to-action (CTAs) that encouraged visitor-to-lead conversion for sales.
Results
Website delivered 50% more sales leads due to improved conversion rate

7 product pages jumped from 100+ to top 20 in Google

Brand experience improved