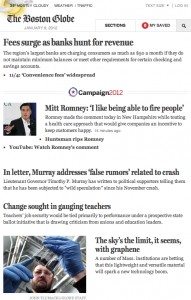 Due to the dramatic growth in the mobile market and the variety of devices available, our industry is experiencing a dramatic shift to support mobile devices in a maintainable way. In the past, servers pushed content to users based on what platform they were using- mobile, tablet or desktop. While this approach worked, it also had it's share of challenges.
Simply put, it was expensive and hard to justify.
Device detection wasn't 100% reliable. When a new device came to market, code had to be updated to support the new device. In years past, browsers on mobile devices were so different that there was no reliable way of creating a consistent user experience. Mobile was cost-prohibitive to most businesses because of it's complexity and maintenance costs.
Now, things have changed.
Over the past year, designers and engineers have started to adopt responsive web design which includes fluid widths, scalable images and adjustable layouts that remain consistent across all platforms. Using a collection of tools and techniques, a single website design is created with varying layouts for different screen sizes to target the various mobile devices while still supporting the traditional desktop web. The layout and positioning of page elements change fluidly, based on the viewer's screen width, resolution and browser capabilities instead of simply detecting the device.
Using responsive web design, variations are made to maximize the space available on the screen for a better user experience for each device. For tablets, consideration is also made for vertical versus landscape viewing.
What It Looks Like
iPhone Size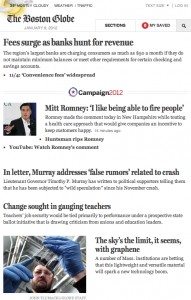 Desktop Size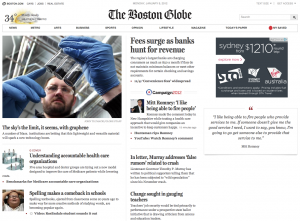 The Boston Globe is the poster child of responsive web design at the moment. Take a look at how the layout changes based on the screen width. The first image is the Boston Globe website, resized for a phone device. The one second is the desktop version. By loading the website and resizing your browser, you'll see responsive web design at work.
Notice how the elements on the web page fluidly move to support the changing size of the browser. You can see how one design can support the varying sizes of internet-enabled device screens.
What does the future hold?
At Knowmad, we're understandably skeptical when it comes to new web design fads and trends because we've seen a lot of fads come and go over the last 10 years which makes it easier for us to recognize that responsive web design isn't a fad. It's here to stay.
We're even implementing responsive web design in our own website redesign project that is currently underway.
Responsive web design is a much-needed, fundamental shift for the web design industry. It will become a new 'norm' just like print styles for web pages.
If you're considering redesigning a website in the near future and you're not yet considering mobile, add responsive web design to your list of requirements. For existing websites, it's possible to refactor designs to support responsive web design. Contact your designer and ask about mobile support.
Mobile continues to grow by leaps and bounds. Even in the B2B market, we're finding that buyers that prefer to research are using mobile devices for their research activities and a growing number of marketing emails are opened on mobile devices. Considering that emails typically drive readers to a website, it's critical to the performance of your online marketing to ensure your website is compatible to mobile devices.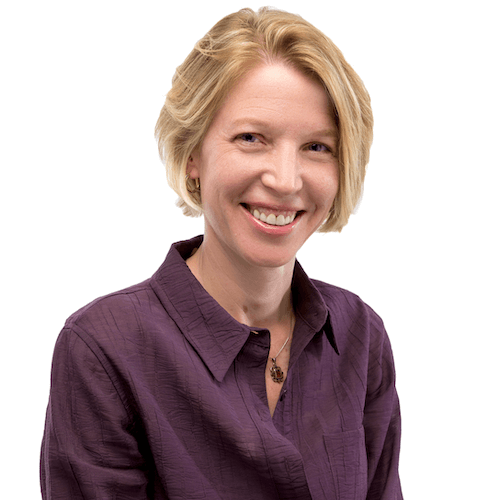 Diona is a managing partner at Knowmad. Her areas of expertise include digital marketing strategy, project management, brand management, search engine optimization (SEO), pay per click advertising, inbound marketing, content marketing, conversion rate optimization, social media marketing and website design.