Search Engine Optimization, or SEO, is a strategic form of digital marketing that helps connect brands and businesses with their target audience.

Even if they do not operate specifically in the digital space, many marketers know that SEO involves researching commonly searched terms in online marketing. When a user searches for one of these terms, the company's and its competitors' websites will appear within the search results. From there, hopefully, the user discovers the product or service and engages with their business by purchasing a product or filling out a contact form.
---
This understanding of SEO is correct, but it needs to include many details and nuances in an effective SEO campaign and strategy. To create and integrate a successful SEO campaign, marketers need to know the realistic timelines for integrating the strategy and seeing results.

Overall, an SEO strategy can transform your brand or business's awareness and visibility. This often creates more leads and sales over time. An effective SEO campaign will accomplish its specific goals within a certain time frame.

However, to create a realistic and successful timeline, it is important to be aware of the typical steps toward more organic leads with an SEO strategy. So, let's discuss a common SEO campaign timeline and how long it will take for a business to see results.
What is an SEO Campaign?
An SEO campaign connects the technical side of SEO with the content SEO strategy to ensure that users get the best possible experience when they encounter a business's website. The technical side of SEO involves load speed, page responsiveness, and data.

This side of SEO functions to effectively serve users the web page's high-quality content so that the user does not lose interest due to slow load speeds or site inaccessibility. The content side of SEO includes the content that the user will see, like web page content and blog posts. This element of SEO incorporates website optimization and keywords to ensure that users find the website's content informative and compelling.

Businesses refine their web pages based on SEO to increase the number of times a search engine, such as Google, suggests or shows their web pages to customers. An SEO strategy seeks to increase online business awareness and rankings so that the business's target audience has a higher chance of engaging with the company's products or services.

Generally, SEO references an approach to digital marketing that results in a company's website and web pages appearing among the first results on a search engine. This increases site traffic and generates organic leads.

If you want to learn more about SEO specifically before learning more about campaign timelines, check out some of our other blog posts, like How to Increase Website Traffic With a Winning SEO Strategy and Improve SEO by Following UX Best Practices for Websites.
Seeing Results from Your SEO Campaign
It is easy to think that SEO strategies should yield results quickly since the initial process of using specific keywords and obtaining organic traffic sounds straightforward. However, both businesses and marketers will be disappointed if they expect to see immediate results from an SEO campaign.

Numerous factors determine how long it will take to see results from an SEO campaign. Typically it will take around 4-6 months to notice organic traffic from an SEO campaign. However, this average is dependent on other factors as well. Let's discuss the different factors that impact the timeframe of your SEO campaign results.

Existing Content or Site Optimization
For search engines to begin serving your content to your desired audience, there needs to be content for the search engine to use. As previously mentioned, successful SEO requires technical website elements and informative or interesting content.

Before marketers can begin integrating pillar pages and keywords into a company's website, the site needs to be optimized for the ideal user experience, and there needs to be existing blog posts and web pages to integrate keywords. The extent of a business's previously existing content and website design impacts the SEO campaign timeline because it determines how marketers will spend the initial weeks of the campaign.
Competition within the Industry or Niche
The business's niche directly impacts how long it will take to notice results from an SEO campaign. Though rare, if your business fills a specific niche with very little competition online, then you might see immediate results upon launching the SEO campaign with research-based keywords. This is extremely rare and only applicable if minimal competition exists in your industry or niche. The average timeframe to see results is 4-6 months based on average competition levels within different industries, but it could be longer if the business is involved in a heavily competitive industry.
Quality of the SEO Campaign
A successful SEO campaign requires industry knowledge and comprehensive research. Many factors create a high-quality SEO campaign, like content quality, pillar pages, keywords, and website optimization. Partnering with digital marketers that put time into planning and researching your SEO strategy impacts how quickly the campaign will see results.
Keyword Ranking Goals
One of the goals of SEO campaigns is for the company's website or web pages to appear within the first search results for a specific keyword. For example, say you operate a digital marketing agency in Charlotte, North Carolina.

The goal would be for your website and information to appear among the first results when users type in a term like "digital marketing agency in Charlotte, North Carolina." Ideally, businesses want to appear on the first page of search results, which usually displays ten results. However, this can take a long time to achieve and is dependent on other factors, like the competition in your field. So, this can impact the timeline in which you notice results.
Backlink Profile
Along with the existing content that is available to marketers as they begin creating an SEO campaign, the backlink profile impacts the results timeline. Backlinks are links that connect users back to other web pages on your website. They are a great way to reference other materials and increase site engagement.

However, backlinks first require content that provides value to your target audience and deserves to be linked. Once your content reflects your organization well, you can create a link-building strategy that will facilitate a more steady stream of traffic to your website. This backlink profile impacts how users can engage with your content and drive traffic to your website.
Creating an SEO Campaign Timeline
An effective campaign maintains the company's goals and integrates SEO best practices in its approach. Campaigns should incorporate differentiation to address specific goals and needs, but there is a basic structure that many campaigns follow. Let's break down the first six months of an SEO campaign timeline.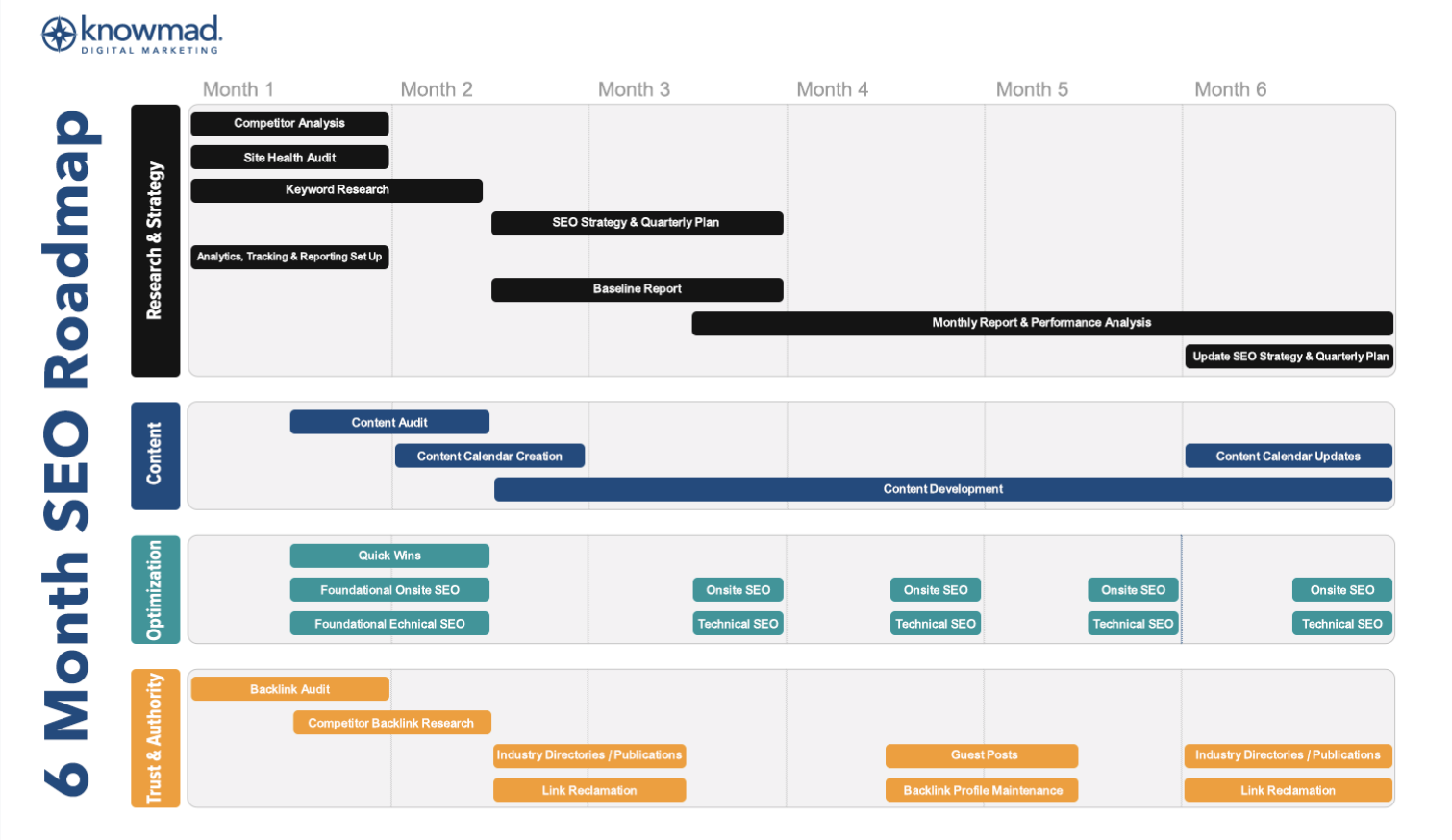 Month 1
During the first month, your marketers and SEO team should focus on research, a site health audit, content audit, onsite optimization audit, backlink profile analysis, and a competitor analysis. The marketing team should thoroughly examine existing content and available analytics and research valuable keywords to include in the SEO content.

If the company had included some SEO strategies in its marketing in the past, the team should examine how these keywords performed and their existing rankings. After establishing an understanding of the existing content and analytics, the marketing team can take an informed approach to develop the best SEO campaign. If the current setup of analytics will not provide the right or accurate data needed to measure results, this is the time to correct and set this up correctly.
Month 2
The second month is the time to incorporate more immediate changes to improve SEO. At this time, marketers might focus on website optimization and the technical side of SEO by fixing site health errors, optimizing page speed, and incorporating onsite metadata such as optimized title tags and meta descriptions. This is also the time for the marketing team to begin thinking about ideas for new and relevant content. New content ideas can also be found through a keyword gap analysis, where marketers can compare what keywords they are currently ranking for versus missed opportunities that their competitors may already be ranking for.
Month 3
Month 3 is the time to prepare for the new content by reorganizing the website and beginning to think about pillar pages and backlink strategies. With all the research that was done in the previous months, you should have developed a strategic SEO content calendar that can be used for months to come.

By this point, all of the simple site changes have been made, so now it is time to develop the website more. This is also the time to begin producing the new content based on the SEO content calendar that will be published on the business website.
Month 4
In the fourth month, the marketing team continues producing new content and publishes it to the site. All of the new content should add value to the website and fill a necessary gap in knowledge for the customer, as well as target new keywords that the website may either need to improve rankings for or capture new keywords for.

This content will be optimized with keywords, title and header tags, and meta descriptions. It will also be created with the company's ideal audience in mind to bring as much value to the site and its users as possible.
Month 5
Once the site has been optimized, and new content with proven SEO strategies has been published, the business should notice some organic traffic and SEO improvements.

As the website strengthens its rankings, the marketing team will continue to develop backlinks and brainstorm new content. The team might also consider how the site can reach a broader audience through guest blog publications or cross-promotion, which would also help strengthen the website's backlink profile.
Month 6
Once the campaign timeline has reached its sixth month, it is likely that the business has noticed improvements in search rankings and organic site traffic. However, as mentioned above, growth may be slower due to a variety of factors.

SEO campaigns are a marathon, not a sprint, so committing to the process long-term is essential for sustained growth. During the sixth month, the marketing team will maintain proven SEO strategies by creating interesting content, developing backlinks, and continuing to analyze current keyword trends. By analyzing results, the SEO and marketing team can shift the focus keywords or content pillars to either continue to improve in the same areas or pivot to targeting new areas.
Get Help From SEO Experts
If your company could use some support with its marketing and SEO strategies, turn to experts to help. At Knowmad, our digital marketing specialists have a proven track record of developing consistent and successful SEO campaigns. We maintain both the technical and content needs of SEO campaigns to help your business thrive. Get in touch with an SEO expert today!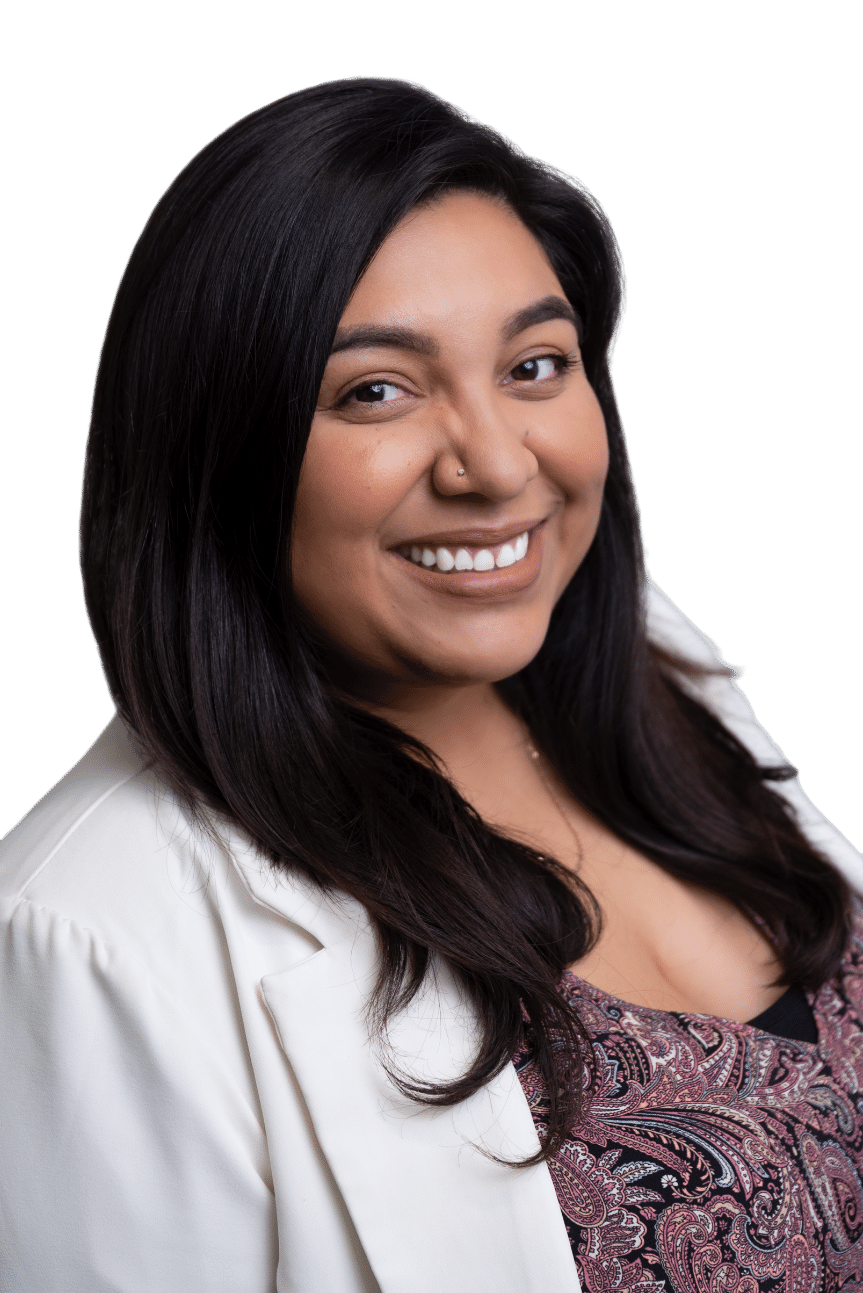 As Head of SEO, Michelle builds powerful organic strategies to help our clients get more qualified leads, generate more revenue, and reach their specific business goals.