Which Leading Digital Marketing Indicators to Watch
We've identified five leading indicators that allow you to gauge your digital marketing performance and that will serve as separate bellwethers to tell your overall ROI tale:
1. Performance by Channel
Each channel's efficacy can be measured along the way—you don't have to wait and see what the channel's ultimate ROI says. For example, are your organic search numbers increasing? Are your paid advertising efforts delivering new leads?
2. Bounce Rates
These numbers tell you a variety of things. You'll know which webpages your visitors are staying on, and which ones they aren't. This informs you how effective your content is. Obviously, if your landing page has a high bounce rate, it needs testing to improve your campaign's performance. You can also dig deeper to uncover traffic quality from referral sites, as well as advertising efforts.
3. Visit-to-Lead Ratio
This will tell you if you're attracting the right audience and if your content offers are engaging enough. Site visits are always the goal, but the number that really matters is how many of those visitors become solid leads.
4. Volume of Sales-Qualified Leads
After identifying visitor-to-lead conversions, you can start determining how many of those leads are sales-qualified. Knowing the lead quality of your digital marketing channels allows you to utilize time and money effectively, all while filling up your pipeline.
5. Lead-to-Customer Ratio
Since we've discussed tracking how many visitors become leads, this final leading indicator shouldn't come as a surprise. It's critical to evaluate how well leads are moving through your system and becoming loyal customers.
We understand that even as we explain these indicators and concepts, it's easy to feel overwhelmed. You're probably asking yourself "Who has the time to measure all of this?" Well, that's what automation is for.
Digital Marketing Toolbox
Build Your Own
Did you think we expected you to break out your calculator and measure all of this on your own? Of course not. That's what marketing automation software, analytics dashboards, and customer relationship management (CRM) platforms are for. For example, we favor HubSpot's automation software and its focus on closed-loop reporting. This useful tool allows sales to work with marketing to discover the best lead sources, tying every lead, customer – and ultimately – dollar back to the marketing initiative that created them.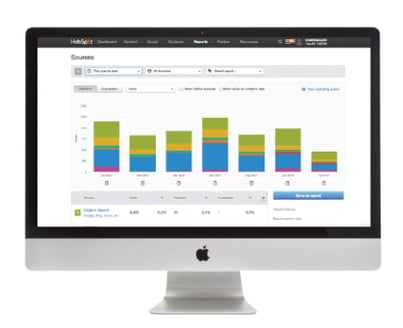 Marketing software like HubSpot can also be linked to CRMs like Salesforce to create transparency between teams. Free tools like Google Analytics allow users to set up custom dashboards that make it easier to retrieve data. Technological tools like these allow marketing to maximize the sources that provide the greatest conversions. And higher conversions lead to a greater digital marketing ROI.
How Can a Digital Marketing Agency Help?
If measuring ROI indicators or integrating technology seems overwhelming, then a digital marketing agency might be a powerful ally. They can help you build a framework for measuring ROI, one that will ultimately create a closed-loop process that uses the best marketing automation for your business.
Most digital marketing agencies have deep experience measuring ROI—as well as those "number within the numbers" that help drive it—because that is what their accounts are measured on. They'll help you set realistic goals, and they'll typically bring the right tools to the table to create visibility around the key metrics that will drive you toward a higher ROI.
Aside from the numbers, most agencies also provide expertise for marketing, sales, and IT alignment. Many companies struggle with ROI simply from a standpoint of not having these teams on the same page, but reaching digital marketing goals is nearly impossible without integrating a holistic strategy that each team is willing to buy into wholeheartedly.
Can an Agency Even Begin to Understand My Business?
Digging in to understand a new company's business and the nuances about what drives their customers' behaviors definitely takes time. In our eyes there's a decisive starting point: a preliminary diagnostic assessment.
Completing this assessment is one of the first things we do with our customers. This allows us to see what channels are currently in use, how effectively they're performing, and if there are any glaring gaps. From there, we can set goals and start determining:
How much revenue you hope to generate
The percentage of revenue needed from inbound marketing
How many web visitors need to be converted to leads
How many leads are needed
How many new customers are needed
This logical starting point creates preliminary digital marketing objectives that begin at a high level but eventually spiral down the funnel to uncover exactly what's driving the most customers to your website—and what they're doing once they get there.
Remember:
Set a Framework, Then Evolve it
In closing, we'll return to the important message where we began this guide: don't stress over finding an exact starting point. Set a baseline to the best of your ability, and then tweak your process over time. While a company's ROI inherently has its own set of variables, trying to gather every single aspect typically leads to doing nothing instead of something.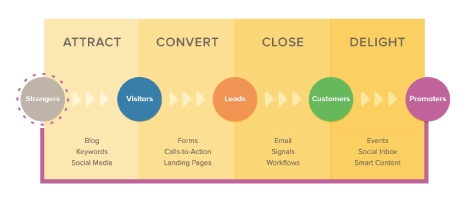 If you're still daunted, it's probably time to ask for help. Without that framework in place, you're basically operating—at least digitally—in the dark. The right agency can shed light on your current ROI and illuminate the most effective ways to impact all of those smaller numbers, ensuring that you're ultimately pleased with the big one.
A Potential Partner
We're Knowmad, an Inbound Marketing Agency with a passion for advancing business online. We help clients build their own lead generation engines using inbound marketing to improve sales and marketing performance. Our customers across a wide range of industries, from manufacturing to technology to B2B services have experienced a 200-500% increase in online lead generation. We'd love to hear from you.
Can your business benefit from partnering with a digital marketing firm?
A no-cost, no-obligation digital marketing assessment will help you uncover areas of opportunity as well as potential pitfalls to avoid. In 30 minutes or less, a phone conversation with one of our online marketing experts will help you identify:
Ways to maximize your customers' online experience
Opportunities to increase lead quality and quantity
Areas for performance improvement
We look forward to speaking with you about how to boost your online marketing!